A Breath of Fresh Air at SPATEX 2019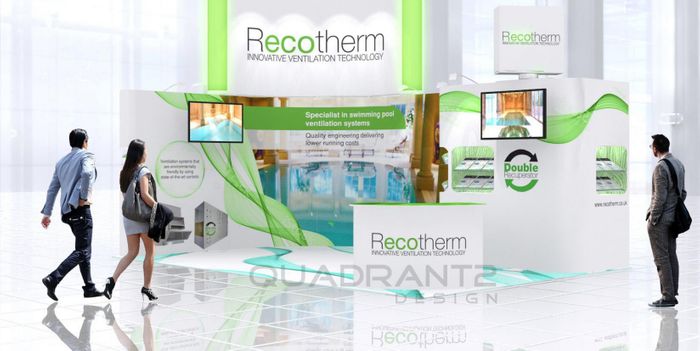 A BREATH OF FRESH AIR AT SPATEX 2019
'
Recotherm ventilation solutions are exhibiting for the first time at Spatex 2019 on stand C52 at the Ricoh Arena Jan 29th ' 31st 2019
Recotherm have been at the forefront of swimming pool hall ventilation for some 30 years now with their advanced 'managed fresh air' concept. They pioneered the use of EC fans and sophisticated control strategies, developing their own climate control modelling and programming of the BEMS systems.
Always highly regarded in the industry for producing well-engineered machines that work cost efficiently for many years, they have always developed the product in line with a quality perspective.
This year they have decided to attend the show to allow them to promote their philosophy and engage with pool contractors and industry advisers face to face.
Recotherm offer a host of bespoke options such as flat pack for difficult installations, scent solution to give that spa experience all year round as well as double recuperators to extract maximum efficiency.
This year they will host a lecture on air filtration at the show.
Health and Wellbeing in the pool - Clean Healthy Air is as important as clean pool water
Swimmers spend time in the pool 'swimming' and expect it to be clean, however all their lives are spent 'breathing' in air, so it makes sense to make sure both the pool water they swim in, and the air they breathe, are both free from any harmful substances.
Swimming pool ventilation systems are there to provide clean air, so that you can enjoy a swimming experience that is pleasurable and healthy. Filters do the job of removing particulates from the air.
Traffic air pollution has recently been identified as being of concern.' Fine combustion particles of size ranges PM1, PM2.5 and PM10 being hazardous to health. Recent research has found that toxic traffic particles in the PM1 range below 1 micron in size can be inhaled and penetrate the bloodstream via the lungs causing serious bodily harm, which may lead to cancer. These types of airborne particles have even been linked to the onset of brain function impairment and dementia.
New building indoor air quality standards BS EN 16798-3:2017 defines clean air using ODA and SUP classifications and relates them to World Health Organisation limits.
Air filtration used to filter out PM1 particles to a high level of efficiency can give protection and the benefit of a healthier swimming experience that will enhance wellbeing.
Using ePM1 rated filters to BS EN ISO16890: 2016 to 70% efficiency, or better, will give the necessary level of protection.
Recotherm offer units with enhanced filtration for inner city locations to meet these new regulations, and will be hosting a seminar at SPATEX 2019 on air filtration, covering the latest filtration classifications and products available to satisfy customer demand.'
For further information please contact
Martin Killern
Recotherm
Tel 01527 894533
Fax 01527 893212
Email martin@recotherm.co.uk
www.recotherm.co.uk
Unit A, Astwood Business Park
Astwood Lane, Astwood Bank, Redditch, Worcestershire, B96 6HH