Alukov group reaches new heights in sales and production capacity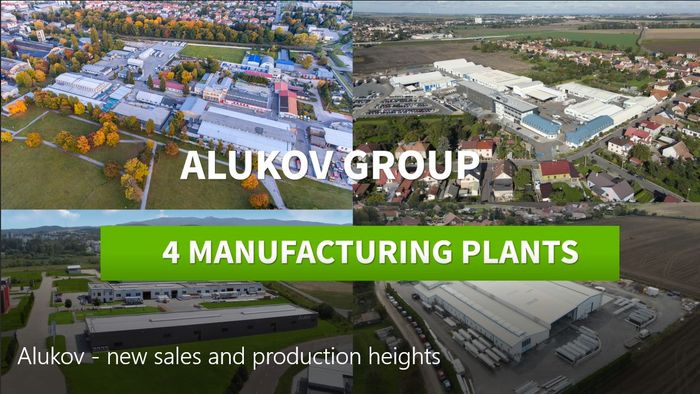 The past few years have been in a mode of turbulent growth for Alukov group. All four manufacturing plants were improved to increase production capacity to shorten the production time to satisfy customer needs for quick delivery of pool and patio enclosures worldwide.
Alukov group has now four modernized manufacturing plant – two in Czechia and one in Slovakia and Hungary. All of them underwent major improvements. Not only by growing of the production facilities span but also by lowering energy consumption, implementing improved business processes and new technologies that include a lot of automation and digitalization.
Group turnover went over 60 million EUR in 2021
For the pool industry the last few years were in the mood of rapid growth, and it seems that for Alukov the growth is not ending yet. The group was able to increase turnover by 30% in two consecutive years and is looking for another 25% raise in 2022. Alukov was founded in Czechia and have had the local market as the main market for many years. Today the Czech market makes about 20% of group turnover as the whole group focus on the export. The main markets are now Germany, Austria, Sweden, France, USA and Belgium where the group has gained a strong partnership with local companies that have been beneficial for all parties. Thanks to good sales results the group was able to increase production capacity and development of new products that attracts even more businesses to start cooperating with Alukov group on their local markets.
Over 11 milion EUR invested
The group heavily invested into all aspects of its business. New production halls and warehouses were built in Czechia, Slovakia and Hungary and the plants are now spanning at over 110 000 m². The biggest investments were the new administrative centre including social facilities for employees, company and employee parking for 300 cars, new machinery and technical equipment for new production facilities, solar power plant for the Orel and Batonyterenie production plants. Also plenty of smaller but very important investments were made that will benefit the Alukov group in a long run. Namely implementing of ERP system, supporting software for delivery, new product showroom along with its digital twin and more efficient energy management solutions.
Overall Alukov has been focusing on digitalization and automation for past few years – business processes, manufacturing, technology, logistics. All of these areas has been improved by IT solutions. These solutions, as well as the products, which are tailor-made for each customer, were also developed and implemented tailor-made for the Alukov group needs. What can be named is significant improvements in the field of business processes that are automated, the field of controlling and ultimately in user-friendliness for the employees and end customers.