ARDEX Tried & Tested Systems in £40million Rebuild of Butlins' Bognor Regis Pool Complex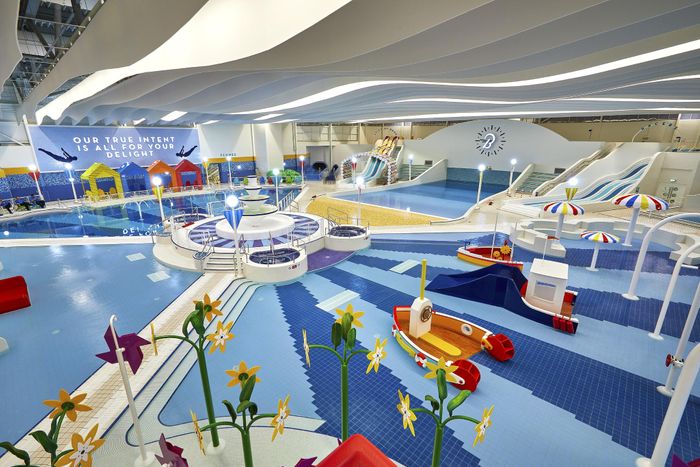 Butlins has been a firm family favourite for holidaymakers since opening its first resort in 1936. At the heart of their facilities are the swimming pools, which have always been one of the biggest draws for parents and children alike. However, at over 30 years old their Bognor Regis site needed modernisation.
In 2017, work started on site to bring the ambitious plans for the new facility to life, and at 6300m2 it was 30% larger than its predecessor. The new state-of-the-art swimming pool complex was based upon a fun, nostalgic, brightly coloured theme and included several exciting features such as flume rides, an outdoor rapid ride, wave pool and lido. Families of all sizes and ages were at the heart of the new development, with large changing facilities, a toddler play zone with slides, interactive water features and rides suitable for a large range of ages and abilities.
The project Architect was PWP Architects, Kier were the main contractor and Dyson Briggs were the sub-contract tiling specialist. Looking for solutions for substrate preparation and tile fixing, ARDEX were contacted due to their expertise in pool and wet leisure installations. Specifically, ARDEX's reputation for manufacturing high-performance products and supplying world-class projects such as the London Aquatics Centre for the 2012 Olympic Games and Tollcross International Swimming Centre for the 2014 Commonwealth Games.
Following a full review from ARDEX's National Business Development Manager, Shaun Howarth, the following specification was provided and worked to.
Submerged Pool Tank Areas
ARDEX's system for concrete pool shells is tried and tested to perform in this challenging environment. Many of its products are rapid drying to assist with project timings by speeding up the installation process.
ARDEX A 38 Ultra Rapid Drying Cement for Internal & External Screeds

ARDEX AM 100 Rapid Set One Coat Tile Render

ARDEX S 7 PLUS Flexible Waterproof Coating for Swimming Pools

ARDEX WPM 200 Epoxide Liquid Waterproof Membrane for Drainage Channels

ARDEX X 77 MICROTEC Flexible Standard Set Tile Adhesive

ARDEX EG 8 PLUS Easy Apply & Clean Epoxy Tile Grout & Adhesive
Unsubmerged Pool Surround & Changing Areas
ARDEX's system of high-performance products for wet areas is designed to provide excellent quality and long-lasting installations.
ARDEX A 29 Rapid Drying Cement for Internal & External Screeds

ARDEX AM 100 Rapid Set One Coat Tile Render

ARDEX WPC Flexible Rapid Drying Waterproof Coating for Internal Wet Areas

ARDEX X 7 Flexible Standard Set Tile Adhesive

ARDEX-FLEX FS Flexible Standard Set Tile Grout for Narrow Joints

ARDEX-FLEX FL Flexible Rapid Set Tile Grout for Wide Joints
Other Products Used Throughout
ARDEX S 21 Rapid Set Floor Tile Bedding Mortar

ARDEX A 46 Rapid Set Repair Mortar

ARDEX F 5 White Universal Repair Mortar & Fairing Coat
ARDEX provided continued support throughout the entirety of the project, with the Business Development Team always on-hand to provide specification advice, answer questions and perform site visits.
Commenting on ARDEX's involvement in the project, Kier said, "We needed an experienced and reliable supplier for a bespoke family waterpark for a popular holiday resort, which required 2.4m tiles in total. Ardex helped in the very early stages of the project, supplying excellent screed and adhesive products for all the tiled areas. With numerous pools and water rides, this complex project had varying curves and differing levels, where Ardex provided specific products for these areas. They provided excellent support on site, particularly to the tile laying company, visiting numerous times throughout the project. With their help, the waterpark successfully opened for the Client's completion date - Spring 2019, ready for the Easter holidays."
ARDEX UK is a system solution provider of high-performance speciality building materials and the brand choice for installers and distributors throughout the construction industry. To find out more about ARDEX products, visit www.ardex.co.uk.