ASIN Aqua Pool Dosing & Management Systems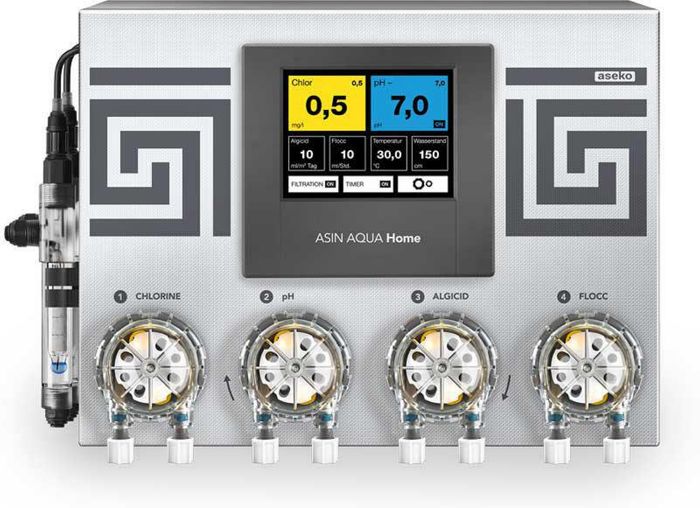 HeatPumps4Pools Ltd are pleased to announce that they have been appointed as the exclusive UK trade distributor for the excellent ASIN Aqua range of swimming pool automatic dosing and pool management systems from Aseko.
The ASIN Aqua range not only provide automatically dosing to control pool chemical levels, but can also act as a complete pool management system controlling chlorine, pH, pool circulation pump, pool heating, pool water level and even automatic pool filter backwashing.
All models are internet enabled allowing remote monitoring via a smart phone or an internet web browser. Chlorine and pH levels as well as pool temperature and circulation pump operation can be remotely monitored with data logged for a 30-day period.
There are four models in the range to suit indoor or outdoor pools of any size.
ASIN Aqua Home ' Chlorine, 'pH, algaecide and flocculent dosing
ASIN Aqua Salt ' Salt chlorine generator with pH and algaecide control
ASIN Aqua Oxygen ' Non-chlorine pool dosing with pH, algaecide and flocculent control
ASIN Aqua Profi ' Professional pool dosing system for commercial pools of any size
HeatPumps4Pools will be demonstrating the full range of the ASIN Aqua products on our stand B3 at the SPATEX pool show from 29th-31st January 2019 at the Ricoh Arena in Coventry, UK.
Please come to see us on stand B3 to see the products in action
HeatPumps4Pools
https://www.heatpumps4pools.com/
About HeatPumps4Pools
HeatPumps4Pools Ltd are a leading specialist distributor of swimming pool equipment based in Billericay, Essex in the UK. They offer a range of pool heat pumps and pool equipment to the swimming pool trade.
'
'
'