Cranbourne Stone Showcases New Porcelain Stone Range at SPATEX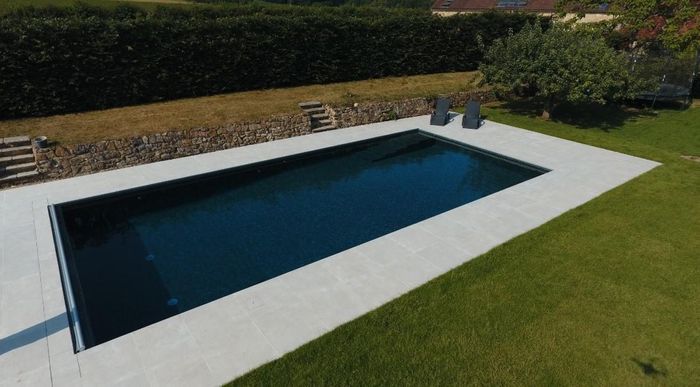 Cranbourne Stone will be unveiling its new range of products at SPATEX, on 28-30 January 2020 in Coventry. Specialists in providing bespoke high quality stone products for swimming pool and landscape designs, Cranbourne Stone has added a new porcelain range as well as expanding its natural stone collection with four new additions sourced from around the world.
Taking centre stage at Spatex will be a new sophisticated porcelain collection which includes the premium range, a 20mm thick stone, with a slip resistant finish. This makes it perfect for any interior or exterior project. Cranbourne Stone will be stocking this superior range in their Hampshire factory, enabling them to produce pool copings and bespoke pieces in-house quickly and to specific requirements.
"We are really excited to present our latest range of stone products to visitors at Spatex," explained Jo Standfield, Cranbourne Stone's Sales Director.
"Our new porcelain collections have been chosen for their quality, style and uniqueness. There are four new ranges including Premium, Elegance, Opulence and Wood Porcelain. The finish of the stone is not only highly durable, but also beautiful making it the perfect choice for a variety of interior and exterior projects."
Together will the new porcelain range, Cranbourne Stone will exhibit its extended selection of natural stone chosen for its exquisite finish and contemporary colours.
"We have included new additions to our 2020 portfolio of natural stone to offer our customers an even greater choice," said Jo.
"One of the highlights in the range is 'Dunster Grey' an aged light grey Moroccan limestone which has been lightly sandblasted and antiqued to create a unique highly stylish look. Also in the spotlight will be 'Audley Beige', a rustic light creamy beige limestone, which is the perfect choice to achieve a sophisticated look with an authentic edge."
Hawkesworth is another new addition to the natural stone collection. A riven and heavily tumbled cloudy ash grey sandstone, it is weathered to create a classic reclaimed flag stone appearance.
"For the ultimate in luxury, there is 'Hampton' stone, an opulent lightly sandblasted marble, with a light cream and white rippling finish, perfect for high-end internal pool projects. Whatever the design, whether it is an inside or outside pool, or a landscaping scheme, the team at Cranbourne Stone will be available at Spatex to offer advice and guidance," concluded Jo.
During Spatex, Cranbourne Stone will also present its latest range of Deck Level Grilles from leading supplier, Stonetech Pools. Available in three designs and three natural stones, the Stonetech Grilles complement any pool design and in any landscape setting.
Visit Cranbourne Stone at Spatex, stand A13, from 28-30 January 2020, at Ericsson Exhibition Hall, Ricoh Arena, Coventry.
www.cranbournestone.co.uk