Cranbourne Stone's Partner Stonetech Helped Create an Award-winning Resort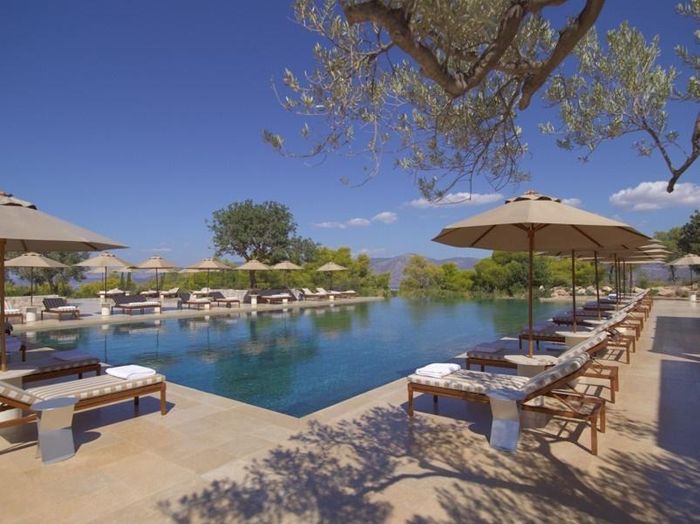 Imagine stepping back in time to visit a stunning Ancient Greek resort, complete with marble and limestone features — a place where you're treated like royalty and can relax in pure luxury!
That's exactly the effect Cranbourne Stone supplier, Stonetech, created when they partnered with Amanzoe, an international resort chain, in 2009 to build their stunning Greek Porto Heli resort overlooking the Aegean sea.
As Stonetech's exclusive partner in the UK, Cranbourne Stone — leaders in swimming pool surrounds, landscape and interiors — will be exhibiting the company's exquisite range of natural stone products at Spatex 2020, stand A13.
Stonetech has worked on a number of exciting projects, including the Amanzoe project.
Working From the Ground Up
After a lengthy six month bidding process, Stonetech was awarded a prestigious place on the Amanzoe project.
Stonetech would spend the next year building an extensive project including 600-700 square metre villas each with a swimming pool, beach cabanas and pavilions, along with four main swimming pools including one indoor pool.
Coming in at day one, Stonetech had the unique opportunity to play a key role in the resort's development by providing limestone and marble stones. Their quality stones were used to build wall cladding, stairs, landscape architecture and swimming pools in the Ancient Greek design.
Amanzoe wanted to create an atmosphere that represented the elegance and sophistication found in traditional Greek villages. When complete, it would pay homage to the local culture, traditions and heritage surrounding this luxurious Greek hotel.
Stonetech's Thoughtful and Proactive Approach
Stonetech had just over a year to complete this extensive project and had to work closely with engineers and architects as it was important to guarantee that the products were exactly what they requested and 100% safe.
The natural stone provider began by coordinating with a prestigious architecture firm to gain an understanding of the architectural design and 3D plans. Once briefed on the project, they collaborated with engineers and architects to deliver the project to the highest possible quality and standards.
The architects requested Stonetech source Fossil Pearl limestone, Silver Cloud marble and Verve Rajasthan marble, which created one of the biggest challenges in this project.
Sourcing Limestone and Marble from Across the Globe
Following the architects' requests, Stonetech had to source each of the requested materials from different countries to ensure the luxury and high quality composite nature of the materials were met along with the project timeframes.
Combining such different materials, each with its own finish, at various points in the construction process was certainly challenging. They also had to:
Manage quality control with a tight timeframe
Import hundreds of containers of materials
Navigate international regulations
Managing Quality Control
As Stonetech prides themselves on delivering quality natural stones, they had to directly closely liaise with their overseas partners. This was particularly tricky when it came to importing the limestone from Egypt as they had to travel there to arrange the shipment, confirm the quality of the stones and load them into the containers. Stonetech's employees on the ground worked around the clock to make this happen.
Following International Regulations
As part of the quality control process, they also needed to make sure that their products complied with international relations for anti-slip and water absorbance (less than 0.5%).
To guarantee all products met these requirements, Stonetech collaborated with IGM, a Greek national laboratory, to conduct a chemical analysis.
Through the chemical analysis, the natural stone supplier was able to explore the water absorption, abrasion and strength of their stones. Stonetech then had to provide a report detailing and documenting the results of the lab tests.
It was certainly a proud but also expected moment when the lab tests confirmed the quality of the stones.
The Final Result -- Creating an Award-Winning Look
After a year of hard work, it was time to step back and admire the final result. Amanzoe was very impressed with the finished result and commended Stonetech on their ability to provide quality natural stones within a tight timeframe. They've since asked Stonetech to bid on all future international projects.
Since completion, Amanzoe International Luxury resorts has won nine awards, including:
World Spa & Wellness Awards by Best Resort Spa 2016 Eastern Europe
Most Zen Spa by the American Express Travel Fine Hotels & Resorts Program 2015
Best Resort in Europe - Condé Nast Traveller 2015
100 Top Hotels - Condé Nast Traveller 2015
Over the last two years, Stonetech has been approached by several other resorts to build similar projects. Stonetech's experiences from the Amanzoe project allow us to help other resorts achieve the same award-winning result.