Create Contemporary Wood Effect with Vancouver & Origin Anti-Slip Porcelain Tiles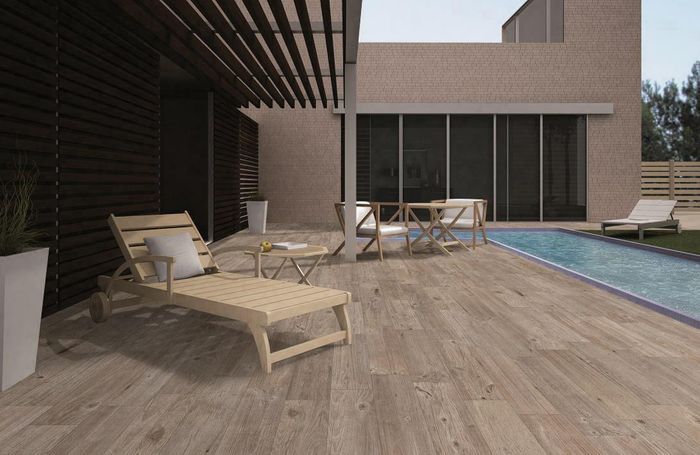 ELLAND, UK: Waxman Ceramics, one of the largest suppliers of mosaics in the UK, as well as one of the leading distributors of large format wall and floor tiles is pleased to return to the annual Spatex show, held at Ricoh arena on Tuesday 30th January ' Thursday 1st February 2018.
Waxman Ceramics invites attendees to visit them on stand D52 where they can view and discuss their latest anti-slip tile collections including their realistic wood effect ranges Origen and Vancouver. Made from glazed porcelain, they are more resilient to water and everyday wear and tear than traditional wood, making them ideal for contemporary inspired pool surrounds. Available in a number of colours and finishes, both ranges offer an authentic result that mimics the look of real wood.
Each tile in the Origen range represents unique grains and colour variations that work together on 15x90cm 'planks' to achieve a realistic wood effect. Available in four true to nature shades; Dark, Natural, Gris, and Miel - Origen offers a range of neutral tones that help imitate the organic grain of wood. The range also has an anti-slip option, which is available in the size of 20.2x66.2cm, extending its suitability for use in swimming pools and spas.
As one of Waxman Ceramics most popular anti-slip ranges, Vancouver is available in three shades; Miel, Gris, and Blanco which beautifully complement each other offering abundant possibilities in terms of both design and implementation. The 20.6x66.2cm range of anti-slip tiles passes all the tests for slip resistance achieving R12 DIN 51130, Grade C in the DIN 51097 and + 36 PTV making Vancouver safe as well as stylish.
Both Origen and Vancouver benefit from all the advantages of being a porcelain tile, whilst utilising digital printed technology to recreate the look of organic wood - including the unique characteristics and grains found in natural timber. Unlike with natural wood that can alter in humid environments, both Origen and Vancouver offer a realistic yet hard wearing alternative to real wood for both indoor and outdoor pools. Both ranges are available in 15x90cm natural finish and 20.2x66.2cm anti-slip.
Waxman Ceramics invites attendees of the show to visit Stand D52 at Ricoh arena from Tuesday 30th January ' Thursday 1st February 2018 to find out more about their vast collection of mosaics and help themselves to complimentary refreshments.
Ends

Further information: Waxman Ceramics is a company under the Waxman Group, which has over 50 years' experience in the distribution industry. Waxman Ceramics is the UK's largest distributor of mosaic tiles and also supplies anti-slip as well as large format tiles, providing total solutions for both domestic and commercial projects.