Demand Soars as Safe Swim Meter Hits the Market!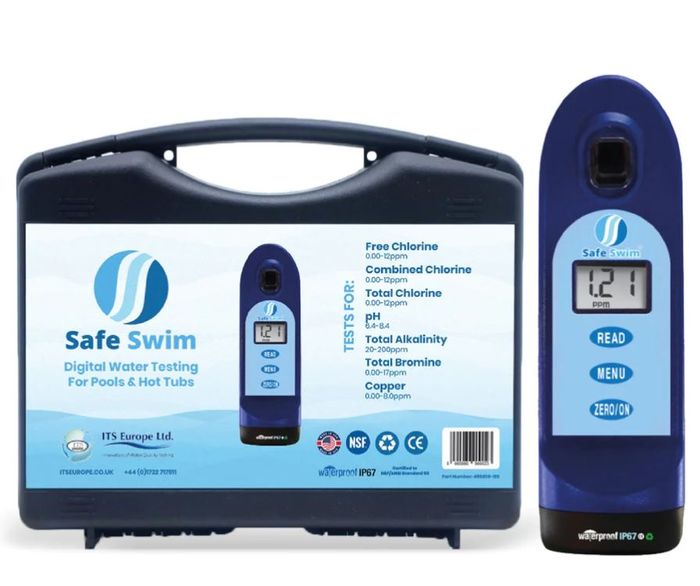 Enhance Pool and Spa Safety with the Safe Swim Digital Photometer - Calling All Distributors and Wholesalers!
Are you on the lookout for ground breaking products that can elevate your range of solutions and cater to the ever-growing demand for top-notch pool and spa water testing equipment? Look no further! We are thrilled to introduce you to the Safe Swim Digital Photometer – a game-changing meter designed to ensure safety and quality in pool and hot tub water like never before.
Meeting the Soaring Demand: The Safe Swim Digital Photometer has quickly become a sought-after choice for water testing solutions among homeowners, commercial facilities, and maintenance professionals. The soaring demand for this innovative meter is a testament to its effectiveness and reliability in providing accurate readings for essential parameters, including free chlorine, combined chlorine, total chlorine, bromine, copper, pH, and Total Alkalinity.
Your Customers Deserve the Best: As esteemed distributors and wholesalers in the pool and spa industry, you understand the importance of delivering high-quality products to your customers. The Safe Swim Digital Photometer aligns perfectly with your commitment to providing top-notch solutions that ensure a safe and enjoyable swimming experience for all.
Why Choose the Safe Swim Digital Photometer:
Unparalleled Accuracy: Our photometer offers precise and dependable readings, ensuring accurate water quality assessment.
User-Friendly Design: Unlike other water testing devices, the Safe Swim meter requires no calibration, making it exceptionally easy to use for individuals of all technical backgrounds.
Patented Reagents in Strip Form: Our innovative strip reagents simplify the testing process, ensuring convenience and efficiency compared to traditional tablets or powders.
Cost-Effectiveness: Priced competitively, the Safe Swim Digital Photometer offers an affordable solution, enabling your customers to maintain water quality without breaking the bank.
Samples Available for Your Evaluation: We understand that to showcase the superiority of the Safe Swim Digital Photometer, you need to experience it first hand. That's why we are pleased to offer samples exclusively to distributors and wholesalers like you. Take this opportunity to witness the meter's remarkable features and capabilities, and see for yourself why it has garnered such immense popularity.
Special Volume-Based Discounts: As a token of appreciation for your continued support, we offer special volume-based discounts on bulk orders, ensuring maximum value for your investment.
Join Us on this Exciting Journey: We invite you to partner with us and become part of the Safe Swim family. By offering the Safe Swim Digital Photometer to your customers, you can set a new standard for pool and spa water testing in the industry.
In Conclusion: The Safe Swim Digital Photometer is not just another water testing device; it's a commitment to safety, quality, and excellence. Take the lead in providing cutting-edge solutions to your customers and contribute to elevating their swimming experiences.
Don't miss out on this exceptional opportunity to enhance pool and spa safety while expanding your product offerings. Reach out to us today and embrace the power of the Safe Swim Digital Photometer!