Entering a new dimension – A9L from Villeroy & Boch expands the Premium Line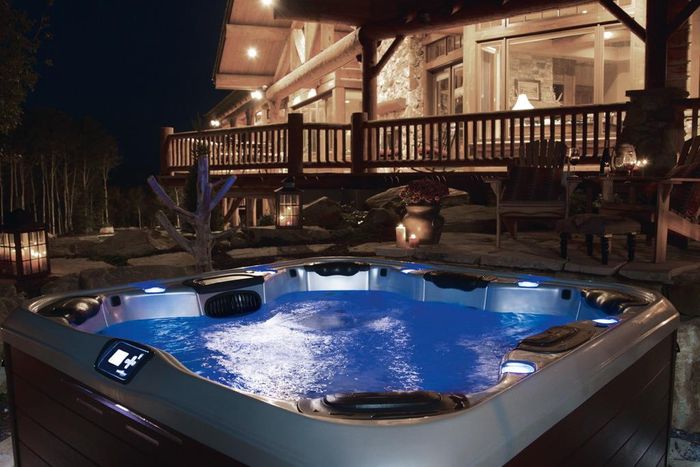 Relax together: the new A9L hot tub model from Villeroy & Boch can easily accommodate up to eight people. The A9L extends Villeroy & Boch's Premium Line with a spa that allows family and friends to enjoy the hot tub together. Thanks to the large selection of models and sizes, the choice of features, and personal colour scheme, the Premium Line can perfectly adapt to the taste and needs of its customers.
By developing the A9L, Villeroy & Boch has created a spa of a new dimension: this is the first time that three pumps and a unique piping concept have been used that no longer directly allocates a pump to a seat. The innovative concept, which is only possible in combination with the JetPakTM II technology, allows any distribution of the full, threefold pump capacity to all seats.
Premium features
All Premium Line spas have one thing in common: they have premium features with highquality stainless steel jets, a waterfall as well as inner and outer lighting. The lighting package consists of light colour changing systems and monochrome lighting elements. Not forgetting the easy-to use control with a colour display screen and control system. Furthermore, they can be controlled by an app via a smartphone (iOS or Android) or iPad. The illuminated waterfall, neck cushion and illuminated drinks holders provide a unique spa experience. An optional sound system makes the relaxation complete.
Patented technology
All Comfort Line, Premium Line and Design Line hot tubs of Villeroy & Boch are equipped with the patented JetPak™ II technology, where the back sections of the seats have been fitted with massage jets, which can be individually selected and put together. The JetPak™ II massage system contains 18 different JetPaks™, which can be easily exchanged via a click system. Every JetPak™ can be controlled individually so that everyone can regulate their massage experience themselves. When it comes to seating, you can also customise your spa to suit your own personal wellness needs: there are twelve shapes in different sizes to choose from. Thanks to the new A9L with 7 JetPaksTM, the Premium Line now has the perfect spa for all needs: from a small get-together with three people through to a hot tub party with up to eight people.
Individual colour scheme
The different colours of the external panelling and inner shells in the Premium Line Color Edition can be combined perfectly with each other and with the JetPaks™. New acrylic colours have been added to the Premium Line colour scheme along with two modern shades of brown, which replace the Hazelnut shade of the outer panelling. The new Timber shade, a warm and modern grey with a light wood grain effect, becomes part of the Premium Line.
Sophisticated construction
The Villeroy & Boch Premium Line hot tubs consist of a robust, fully enclosed and woodfree construction with full-foam insulation and an insulating cover. This construction, the robust plastic supports and the high-quality, UV-resistant acrylic surface of the shell make the hot tubs very long-lasting while providing a perceptible noise and vibration reduction.