Golden Coast - Stress-free lighting from EVA Optic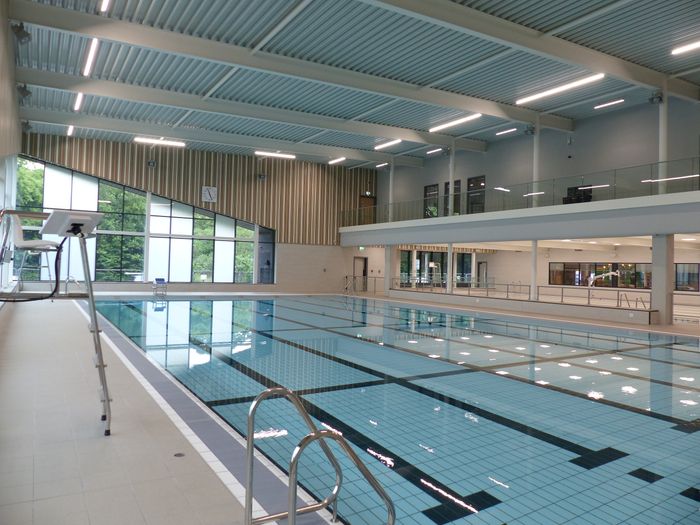 Renowned low-maintenance EVAline scheme proves popular at new leisure facility in Surrey Heath.
Places Leisure Camberley has recently opened to the public offering a variety of facilities and activities for the local community.
Completed on time despite the pandemic, the £22 million centre includes a fitness suite, 25-metre 6-lane pool, learner pool with adjustable floor and children's splash pad, 8-court sports hall, group exercise studios, health suite, climbing arena and a Costa Coffee Café.
Project builders Pellikaan Construction selected EVA Optic's EVAline lighting for the pool hall, having previously used the lighting system within leisure centres around the UK with great success.
Unlike indirect lighting, EVA Optic direct lighting is fitted overhead shining down over the water, producing minimal glare and surface reflection. This allows greater visibility into the water and provides a safer environment for bathers.
At Places Leisure Camberley, twelve 120w EVAline lights and twelve 60w EVAline lights were installed around the pool hall.
Industry guidelines state that light levels must be minimum 300 Lux, with an illumination uniformity value of 0.7 or higher. Despite its lower wattage, EVAline lighting at Camberley provided powerful illumination and delivered an average Lux of 495 as well as a uniformity of 0.81.
Electrical contractor Eleciserve was responsible for the full design and installation of the electrical package.
James Perry Contract Manager at Eleciserve explained: "EVAline lighting is extremely impressive. It is very high quality and well made. Not only are the lights easy to install, but they are also very easy to maintain, as the fittings don't have batteries. This makes life much easier for those running the facility.
"EVAline lights also blend in really well with the surroundings. You almost don't notice them when you walk around the pool, which is important because it means there isn't any strong glare."
EVA Optic direct lighting is supplied in the UK through leading wet leisure distributor Golden Coast.
Shaun Adams, Director at Golden Coast said: "EVA Optic LED direct lighting is built to withstand the harsh environment of a pool hall. The durable lights provide flicker-free illumination while using less energy and a lower wattage, allowing facilities to cut their running and maintenance costs in the long term. EVAline was ideal for Places Leisure Camberley as it provides good quality lighting over both the large main pool as well as the learner pool, without being too overpowering, as you can sometimes find with alternative indirect lighting systems."
James Perry added: "Shaun was great to work with. He made site visits and talked us through how the lighting worked which was really helpful and he was always available when we had any queries. Given all the benefits direct lighting offers, we will definitely be recommending EVA Optic lights for future projects."