Good vibes all round with Del Tixit from Golden Coast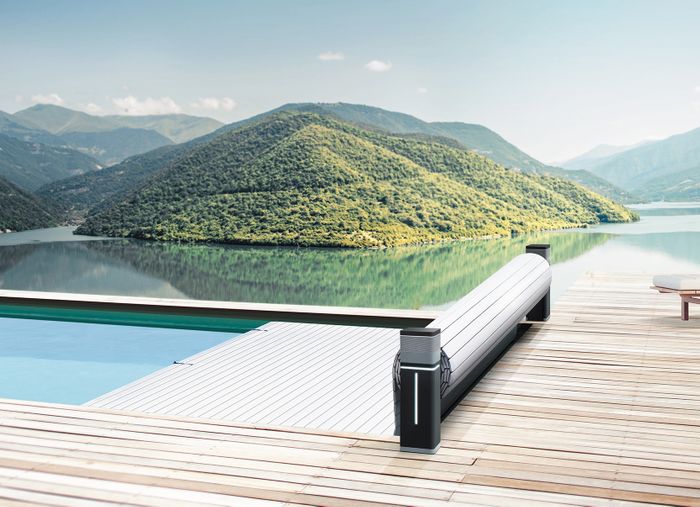 Bring the party to the pool with the DEL Tixit above-ground automatic slatted cover now featuring built-in Bluetooth speakers.
As the latest addition to the ever popular DEL pool cover range, the Tixit is currently available in solar and electric variations and can be purchased from wet leisure distributor Golden Coast.
"Gone are the days when your pool cover used to look plain and unsightly," said Luke Honnoraty, Technical Sales at Golden Coast. "The end stands of the DEL Tixit pool cover are a modern, slim rectangular design that subtly blends in with surrounding aesthetics. They are a bit different to other products on the market, particularly as the electric models offer LED lighting for an added night-time glow. The Bluetooth speakers also add a bit of fun and can enhance the owner's enjoyment of their pool."
DEL Tixit end-stands are available in matt grey, white or black, with a textured power-coated aluminium finish, and are even 100 percent recyclable.
Customers can select from either solar polycarbonate slats, which also heat the pool water and come in 6 colours, or opaque PVC slats in grey, white, beige or blue. All DEL Tixit cover slats meet standard NF P 90-308.
"With the DEL Tixit the customer can choose the end-stand and slat combination that suits their own style," said Luke. "Most importantly, the cover makes the area safer as it prevents anyone, particularly young children, from entering the pool. It can be opened or closed in a matter of minutes, and customers can also add locking kits for extra security."
The DEL Tixit cover can be remotely operated by the wireless Wi-key control box, which is password protected to stop unauthorised access. Covers can be retrofitted to pools of 2.5m x 3m up to 5m x 13.5m.