HEXAGONE MANUFACTURE PEPS UP SEMIPUBLIC MARKET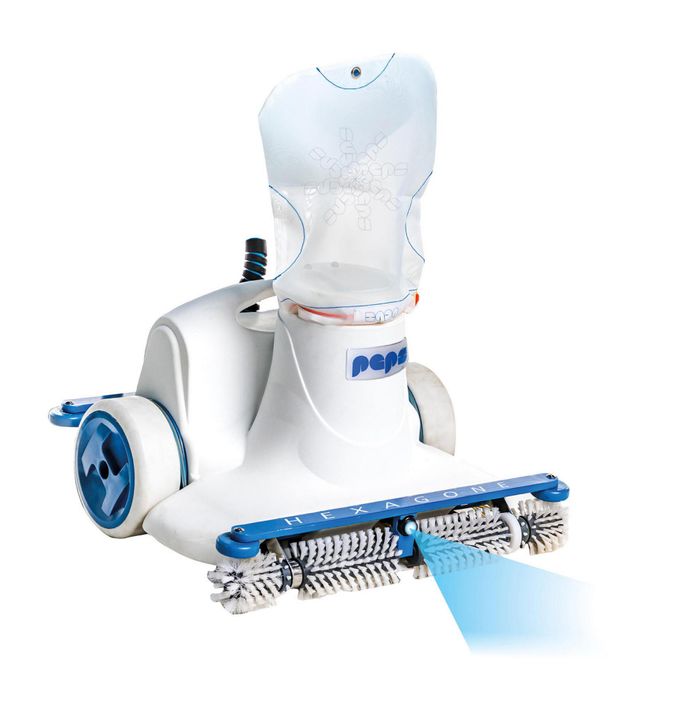 ARGENTEUIL, France, December 1, 2017 ' This week Hexagone Manufacture have received the 300th order for its innovative professional scrub robotic pool bottom cleaner Peps 200.
The flagship novelty 2017 Peps 200 was launched in April 2017 as the new entry to semipublic market such as hotels, camp sites, schools, condos, health clubs and high demand private customers. It is equipped with a stainless steel chassis, a powerful turbo pump (37 m3/h instead of usual 16 m3/h), a Stiff Bristle quick-action brush for a perfect degreasing and an effective fight against algae. Debris are trapped its ultra-resistant bag (4 filtration finesses at your choice). Its smartphone-type tactile dashboard provides control, while its intelligent system (gyro and infrared sensors) allows it to clean a pool up to 15 m in length in less than 30 minutes. Peps 200 is supplied with a radio remote control. Finally, it has almost no wearing part (finished caterpillar, PVC brushes, foam ...) and has premium motors.
Of the company's success in the semipublic market, Hexagone's CEO Yoann Chouraqui said: 'Our dedicated R&D department, our policy to spend 20% of our turnover in innovation, our performance and client-oriented culture have driven Hexagone Manufacture to where it is today.'
Practical information: See the robotic vacuum cleaner Peps 200 in action on SPATEX 2018 on the stand of Hexagone Manufacture ? F34.
About HEXAGONE MANUFACTURE: HEXAGONE MANUFACTURE develops, produces and markets specific equipment for public and commercial swimming pools. Founded in 1987 and based in Argenteuil, France, Hexagone unites the team of 68 employees, 7 subsidiaries in Europe, and is represented in public pools of more than 55 countries with 15% of the world market share, the supplier of London lido and Rio and London Olympic pools, and different world championship.. Find more information at http://myhexagone.com/_en/about-us.php.'