It's a 'Race to the Finish' as ARDEX Complete Commonwealth Games Pool in 8 Weeks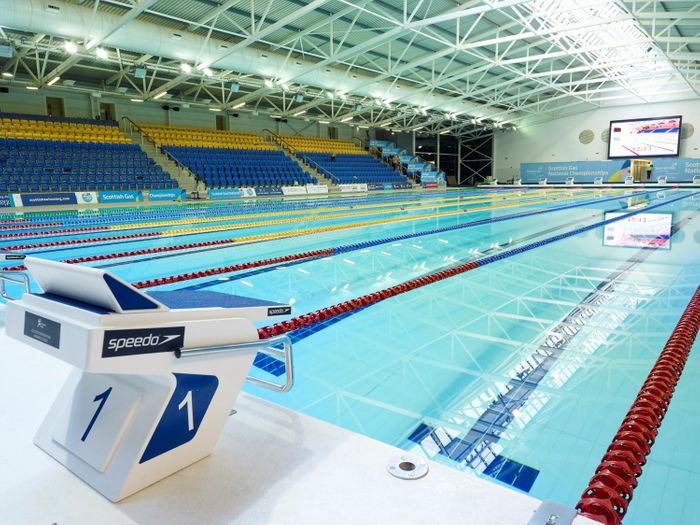 The drama of the 2014 Commonwealth Games' swimming competition will be played out at Tollcross International Swimming Centre from 23rd July until 3rd August. A significant icon in British sport, the swimming centre has played host to The Scottish Gas National Open Championships, The British Para International Meet and the 2014 British Gas Swimming Championships.
In anticipation of the arrival of the games, Tollcross International Swimming Centre's existing facilities underwent a complete refurbishment and upgrade. However, during works to strengthen the ceiling, contractors noticed that some of the screed below the tiles on the main competition pool floor had separated from the concrete pool tank. The entire floor of the pool needed to be removed, and re-laid.
Tollcross International Swimming Centre is owned by Glasgow City Council, and Scott Faichey, Architectural Technologist for the council, was appointed to handle the project. Scott hired, Tilecraft, a specialist tiling works company that delivers high quality tiles across the whole of the UK, to lay the tiles and specified products from ARDEX UK.
Scott commented: "The renovations to the swimming centre were undertaken to ensure the centre could handle the sheer influx of competitors and spectators for the 2014 Commonwealth Games. The late realisation that the pool would need a complete refurbishment meant that it had to be completed in just 8 weeks as Tollcross was due to host the Scottish Gas National Open Championships."
Scott continues: "I needed to identify a fast track solution which would produce high quality results, and ARDEX UK seemed the logical choice. Having worked with them before on the London Aquatics Centre, I knew they would be able to deliver on a tight deadline and to the high standards expected."
ARDEX UK is a system solution provider of high-performance speciality building materials, and the brand choice for installers and distributors throughout the construction industry.
Andy Reid, National Business Development Manager at ARDEX UK, said: "ARDEX is the only company that offers fast track screed products. ARDEX A 38 allows tiles to be laid after only 4 hours, whereas other similar products available on the market can have a drying process anywhere from 3 weeks, to a couple of months, and with the restrictive timeframe given there simply was not the time for this lengthy process. ARDEX were able to get the job done and meet the exact needs of the client because of the specialist nature and premium quality of our products."
The products used to reinstate the Commonwealth Games Competition Pool floor included;
ARDEX A 38, rapid hardening and drying cement for floor screeds in internal and external locations. Traditional sand/cement screeds can take months to dry, however, ARDEX A 38 rapid dry screed can receive floor coverings, including ceramic tiles, after only 4 hours regardless of thickness, ensuring all tight deadlines are adhered to.

ARDEX X 77 MICROTEC, flexible wall and floor tile adhesive. A 20 minute open time is typical for most tile adhesives but ARDEX X 77 has an open time of up to 60 minutes, which means that you can spread larger areas of adhesive in a single application, enabling those laying the tiles to work more efficiently.

ARDEX EG 8, Cement/Epoxy hybrid grout and adhesive. Combines the chemical resistance of epoxy grouts, with the application properties of cement based grouts. It is ideal for use in swimming pools and other areas where chemical resistance and hygienic joints are required.

ARDEX WPM 200, a solvent free multi-purpose epoxide primer coating and damp proof membrane. It has been specifically developed to provide a water and water vapour barrier, for concrete, screeds, renders and other vertical as well as horizontal hard surfaces.
John Taylor, Managing Director of Tilecraft, the company responsible for laying the new tiles with the use of ARDEX's products, commented: "I am a big fan of the ARDEX products, and have complete confidence knowing that the refurbishment of the competition pool was carried out by quality tradesman, using a high performance product. In a project where there was no room for mistakes, it was easy to see that ARDEX UK's industry knowledge is second to none."