KLEENPOOL ULTIMATE PADDLECARE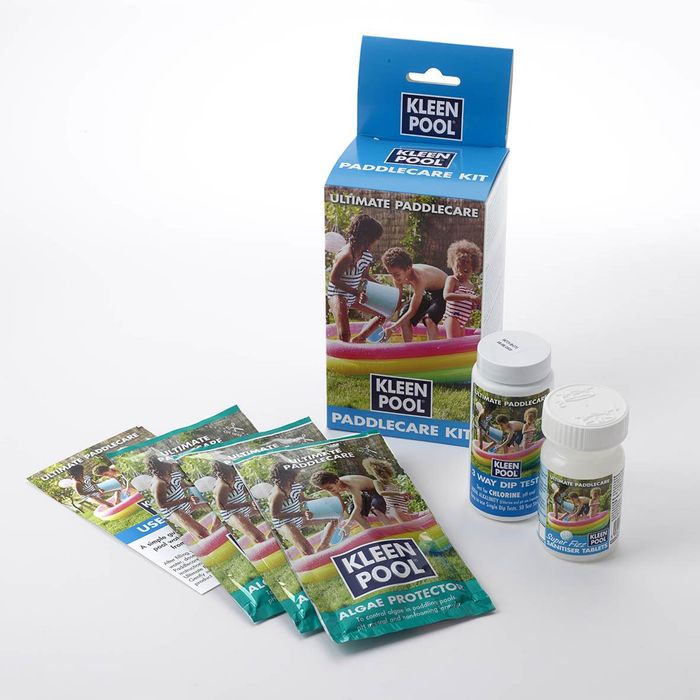 Kleenpool Ultimate Paddle care Kit
We all have the spontaneity of paddling in water, both at the seaside but also in the back garden. Freshly filled paddling pools are generally safe, but given that water is now considered a precious resource, its wasteful to constantly drain down and refill paddling pools, and there's certainly no need to do this.
Ultimate Paddle care Algaecide Protector–prevents algae formation and/or destroy algae spores
Ultimate Paddle care Super Fizz Tablets–destroys harmful bacteria that enters the paddling pool.
The kit includes the following:3 x Ultimate Paddle care Algae Protector 50ml Sachets 1 x Ultimate Paddle care Super Fizz Tablets (20 x 3.2g)50 x Ultimate Paddle care 3 Way Test Strips 1 x Instruction Leaflet AGPKCLSKPSSP is £14.95 each (£149.50 per case of 10).The following can be offered as separate products: ALGAE.05KP Algae Protector Sachet: SSP is £2.45 each (£49.00 per case of 20)CLSANTAB64KP Super Fizz Tablets:SSP is £2.99 each (£29.90 per case of 10)TS3WAYCLKP Test Strips: SSP is £9.95 each