Lighthouse and Bayrol Partnership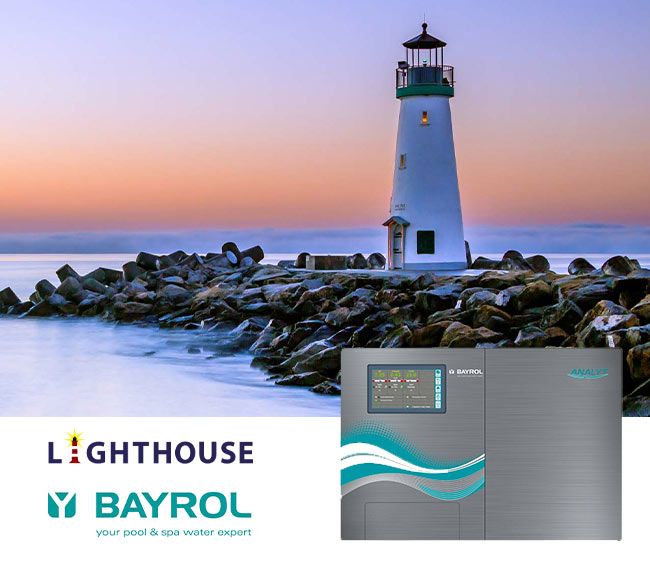 Lighthouse appointed the UK distributor for BAYROL
Today – 20th September 2023 – BAYROL Deutschland GmbH, one of the European leaders in pool water treatment, dosing and control solutions and Lighthouse Pools, the UK's only Independent Specialist distributor, have announced a new long-term partnership agreement.
In an increasingly polarised industry, BAYROL recognised the need for a focused and dedicated approach to grow and support their extensive product range in the UK market.
Lighthouse's proven track record of growing brands from scratch within the UK held a strong appeal for BAYROL who believe this partnership will successfully propel and advance their foothold in the market.
Juergen Koenig, BAYROL comments: "With the appointment of Lighthouse Pools as a new distribution partner, we strongly believe that we can push the visibility of BAYROL branded products and therefore its success in the UK market to the next level, while at the same time enhance personal relationships with pool companies across the country.
"We are looking forward to working with such a dynamic, modern and forward-thinking company as Lighthouse Pools.
"With all the current changes and corporate consolidations in the market, it was only natural that a premium brand such as BAYROL would be looking to deliver a more concentrated focus for their products," he continues.
"With this partnership, we will be looking to grow and support the complete BAYROL range and all the dedicated trade partners with a full stock holding and dedicated technical support team. This is a really exciting time for us here at Lighthouse and we are so pleased to be working with such a positive, dedicated, customer- focused product manufacturer," says Daniel Phillips, Managing Director, Lighthouse Pools.
Lighthouse will have a full stock of both the existing BAYROL ranges: BAYROL water treatment and BAYROL Technik products, including the full range of spare parts. Shortly, Lighthouse will also be launching BAYROL's Automatic range of domestic saltwater chlorinators and pH and chlorine dosing systems, in addition to an exclusive range of BAYROL branded maintenance equipment. All BAYROL products will be available to purchase from Lighthouse from 1st November 2023.
In the next few days, to coincide with this exciting launch, Lighthouse will be sending out their new 2023 Winter Edition catalogue, complete with the full BAYROL range and their new exclusive products from some of Europe's other leading manufacturers.
To find out more about this exciting transition and BAYROL please visit the new Lighthouse website – www.lighthousepools.co.uk – or contact Lighthouse Pools on 01752 253525 or e-mail sales@lighthousepools.co.uk