Master Spas - Michael Phelps – Wave Propulsion- Swim Spa range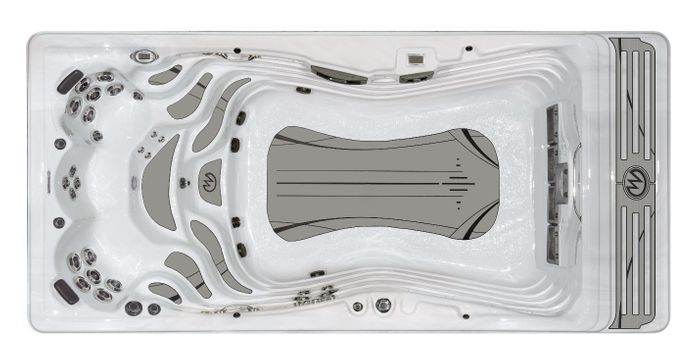 MP Force® Deep
The MP Force Deep offers the best of a swim spa but with a smaller footprint. Ideal for swimming, aquatic fitness, hydrotherapy, and entertaining, this nearly 17-foot swim spa features a smooth, wide current; 39 massaging spa jets; and therapy cove.
MP Signature™ Deep
Made for more than just swimming, the MP Signature Deep combines the benefits of aquatic exercise and hydrotherapy. Walk, jog, swim, strengthen, and stretch in the generous swim area. Retreat to the therapy seats where massaging spa jets ease muscle aches muscles and deliver maximum relaxation.
MP Momentum™ Deep
With the MP Momentum Deep, you don't have to choose between a backyard swimming pool and a hot tub. Two sets of temperature controls allow you to exercise in cooler water and retreat into warm water up to 40 degrees. A generous swim area is ideal for aquatic fitness and refining your stroke. And the innovative propulsion system delivers a smooth, wide current that you can adjust based on your wellness goals. The adjoining hot tub features ergonomic seating and adjustable jets that target your pressure points to promote relaxation and recovery — for your body and mind.