Meaco range of slimline stylish wall mounted dehumidifiers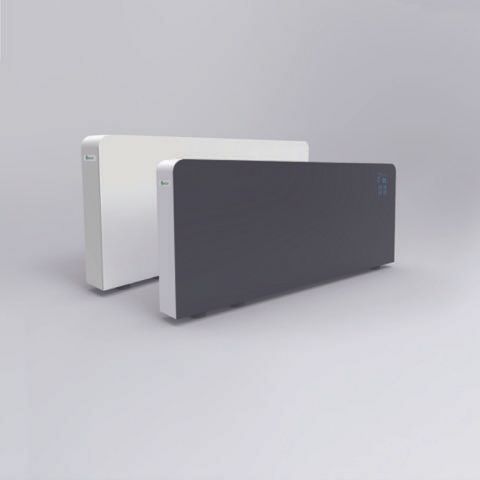 MeacoWall is the latest range from'Meaco (UK) Ltd, part of its award-winning Platinum Range of commercial low energy dehumidifiers.'
An advanced and stylish solution for humidity control where wall mounting is an important requirement, MeacoWall is ideal for use in gyms, swimming pools, health clubs.
Available in three sizes, 53L, 72L, and 103L, the main benefits of the new range include reduced running costs and noise levels, better energy efficiency, and a design that incorporates a front glass panel giving a stylish, modern look, that is often lacking in commercial products.' MeacoWall is designed to be wall mounted so is unobtrusive, and safe to use in high footfall public spaces,
At just 202mm deep these dehumidifiers are probably the slimmest wall mounting dehumidifiers on the market and as such will not protrude far into a room.' New features include the incorporation of a DC fan motor that helps to reduce running costs and keeps noise levels very low, to just 44dB for the 53 litre model and just one decibel extra for the 72 litre model, a figure that many domestic dehumidifiers would struggle to match. As a heat pump compressor dehumidifier, all energy used in the drying process is sent back to the space thus delivering dry, warm air whilst keeping energy costs down.
A unique glass finish means they look great, coming in a white casing with either a white or black glass front panel that incorporates the light touch LED. Installation is flexible with the option of continuous drainage from either the right or left hand side of the dehumidifier. An automatic hot gas defrost system allows use in spaces were heating is limited with continuous performance right down to 10'C, something that most wall mounted dehumidifiers cannot do as they are often designed with just the warmer swimming pool sector in mind. For swimming pool applications, the refrigeration coils are specially coated to ensure a long service life.
Meaco (U.K.) Limited Managing Director Chris Michael said 'We have worked really hard on these designs over the past two years and are delighted that they are now available.' We really felt that as well as making the internals as efficient as possible we should spend as much time on the external design as well.' Who said that it is acceptable for a commercial dehumidifier to look ugly just because it is not being used in the home?' We felt that these products deserved to look great on the outside as well as being beautiful on the inside as well.'