NEW ALERT SYSTEM SPARTEL ENSURES THE SAFETY OF SAUNA USERS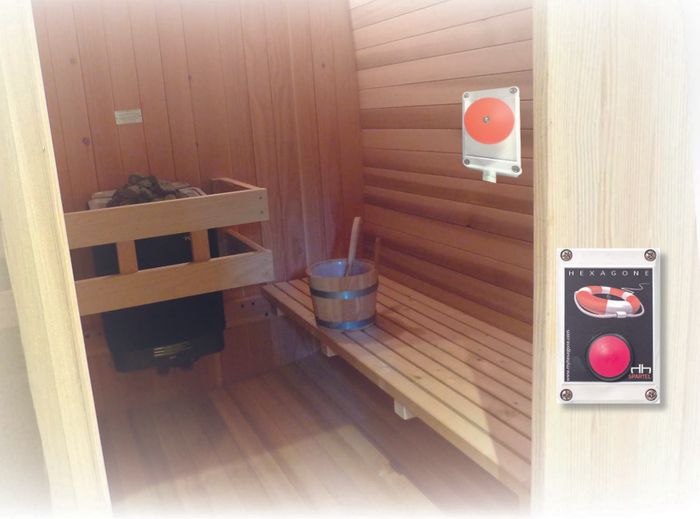 Argenteuil, France, December 1, 2017 ' Several studies have shown that regular sauna use reduces the incidence of colds and influenza. It also helps clear the respiratory tract and sinuses.
But what about security? Often uninformed about the ritual to follow for a session, many users feel discomfort for wanting to stay too long or just because they are not used to withstand such intense heat. Often alone inside the cabin, the user panics, can slip or faint. He can also face the danger from other users. With the panic button SPARTEL, the user of a sauna or any other area of well-being can trigger an alert directly received by a central box located at the reception or at the lifeguards of swimming pool. Showing the area on the display lets the responsible know which sauna, hammam or massage area is on alert. Simple, wireless and completely waterproof, this ultra-reliable system can be easily and very quickly installed. The special panic button for sauna can withstand the temperature of up to 120 degrees!
Practical information: See SPARTEL in action on SPATEX 2018 on the stand of Hexagone Manufacture ?F34.
About HEXAGONE MANUFACTURE: HEXAGONE MANUFACTURE develops, produces and markets specific equipment for public and commercial swimming pools. Founded in 1987 and based in Argenteuil, France, Hexagone unites the team of 68 employees, 7 subsidiaries in Europe, and is presented in public pools of more than 55 countries with 15% of the world market share, the supplier of London lido and Rio and London Olympic pools, different world championship. Find more information at http://myhexagone.com/_en/about-us.php.