New Cyclone Filter Cleaner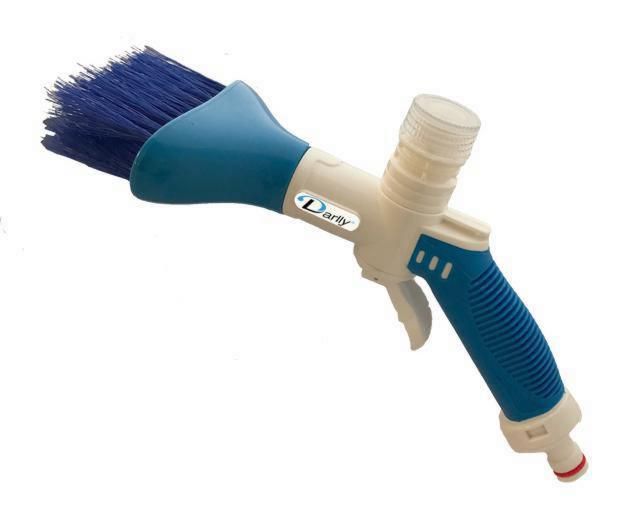 The redesigned Cyclone has been modified to accommodate a cleaning fluid chamber, a new uni-body that eradicates leaks and has longer brushes to clean deeper in to the pleats.
Regular use of the New Cyclone allows filter cleaning in less time and it prolongs the life of the filter cartridge by leaving the treated filter cartridge restored to its previous condition.
The new Darlly Cyclone Filter Cleaner is a ground-breaking pool and spa filter cartridge cleaning device which has been ergonomically designed by Darlly.
'
Precision engineered and built to last using the highest quality materials together with top quality bristles this trigger-controlled unit will reduce filter cleaning time and ensure a much cleaner filter, removing a lot more dirt, debris and grease than traditional cleaning devices. The bristles of the brushes have been designed to be tough yet sympathetic to the filtration media.
'
This is the first device on the market that uses brushes combined with high-power water jets and a cleaning fluid chamber which ensures the 'Brush and Flush' action not only makes for effortless yet intensive filter cleaning, deep into the cartridge pleats, but also is better for the environment because less water is used!
The Cyclone Filter Cleaner is perfectly balanced making it easy to use.:
1. Attach Cyclone to a hose using the hozelock connector.
2. Add filter cleaning liquid into the chamber. (Instant cartridge cleaner is quicker)
3. Use the trigger and spray the cleaner/water mix into the filter using the brushes to remove any unwanted debris.
4. Once the cleaning liquid has been used up leave the filter to stand for at least 1-2 hours (10 minutes with Instant Cartridge Cleaner).
5. Then without filter cleaner liquid just use the water spray and brush to remove any remaining dirt.
6. When finished leave the filter to dry overnight.
7. If possible use 2 filters in tandem, one in use, one drying to lengthen the life of both filters.
8. Repeat this process on a monthly basis
This dual action cleans deeper in less time!
Want a sample while stock last? email info@darllyeurope.com
http://www.darllyeurope.com
'