New Nicheless LED Lights from Zodiac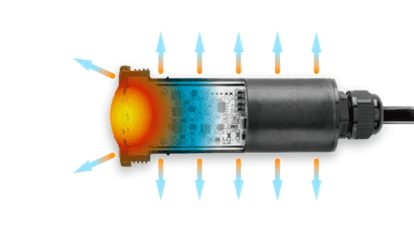 Cool by Design
The Zodiac Pro Series LED Nicheless lights with HydroCool' technology use an innovative, energy-efficient design that harnesses the cooling power of water to create a cooler running, longer lasting* light. Designed to fit in a standard 1-1/2" return fitting, these lights are smaller than standard lights to accommodate complex pool designs, and operate at lower wattages, while providing brilliant illumination.
*Based on internal testing
Features
Bright illumination that reduces energy costs using less wattage than ever before
Triple-material, unibody construction design eliminates common leakage failure points
The diffuser lens provides better blending of light for the clearest and most consistent lighting in its class
Allows heat from the LEDs to transfer to the water.
Cool running, single seam design.
Available in 6 versions ' 6W, 12W and 24W RGBW and 6W, 12W and 24W White, these lights are only 115mm (6 watt) or 140mm (12 and 24 watt) in length to fit even the narrowest walls.
Every light includes a protective cover and a robust installation tool.
Bright illumination using less wattage than ever before thanks to LED advancements.
Lights come standard in black with complimentary grey and white cosmetic trim ring covers to match a larger variety of pool surfaces.'
The Zodiac PRO Nicheless lights are designated for the pool dealer/installer only and available solely in the UK through Lighthouse ' The Specialist Pool Distributor.