Official Showroom Opening and Annual Partner Conference 2022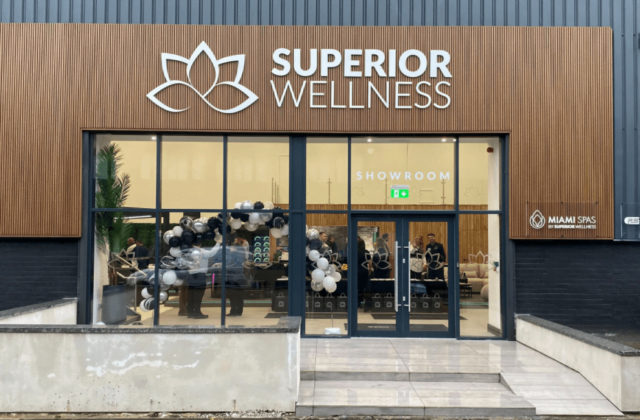 On Wednesday 2 March 2022 Superior Wellness officially launched its brand new showroom and training facility to the global partner network and suppliers. The official launch coincided with the company's annual partner conference, a celebration of the last 12 months and a chance for the company to reconnect with partners and plan for 2022 and beyond.
In total, over 150 partners, suppliers and team members attended the official showroom opening, with over 130 joining for the Annual Partner Conference and Awards ceremony at Casa Hotel, Chesterfield.

The new purpose-built Superior Wellness showroom features over 40 award-winning hot tubs, 1 swim spa, a wet testing area and so much more. The space will also be utilised for learning and development, with a training session already hosted here the day before the event.
Luke Shiels, Logistics Manager at Superior Wellness, and the longest standing team member, had the pleasure of cutting the ribbon at the opening ceremony.

Luke said: "It is amazing what we've achieved as a business since 2011. The last 12 months have been a whirlwind and the new showroom is an exciting step forward for us and our partner network."
As part of the grand opening, partners and suppliers were offered a tour of the showroom, office space, on-site gym, warehouse and new marketing studio. The marketing studio is a new development at the Superior Wellness headquarters. Home to the marketing team, Superior Wellness will be utilising this space to improve digital content and product photography.
Superior Wellness also held its annual partner conference at the Casa Hotel in Chesterfield. Heads of Department from Marketing, After Sales and Sales presented the progress that has been made so far and their plans for the year ahead. A team building activity also took place with company, Creative Team Events, whereby attendees took part in a 'Haka' workshop. Guest speaker, Steve Judge, also gave an inspirational speech on his journey with the key message being 'don't lean on your excuses'.
Superior Wellness then hosted a formal awards ceremony in the Barcelona suite. There were 20 awards in total ranging from highest performing partner per hot tub brand, marketing initiative of the year, to the prestigious partner of excellence award.

Graham Message, Business Development Manager, adds: "The official showroom opening combined with the annual partner conference and awards ceremony was an incredible day. It felt amazing to finally have the team and partner network in one room together again.

"The annual conference is always a huge success and provides the opportunity to gain constructive feedback and prioritise for the future. We have a fantastic relationship with our partners and value their feedback. Meetings such as this allow us to continuously improve and adapt our resources to meet the needs of our partners and their customers."