Outdoor LifeStyle TV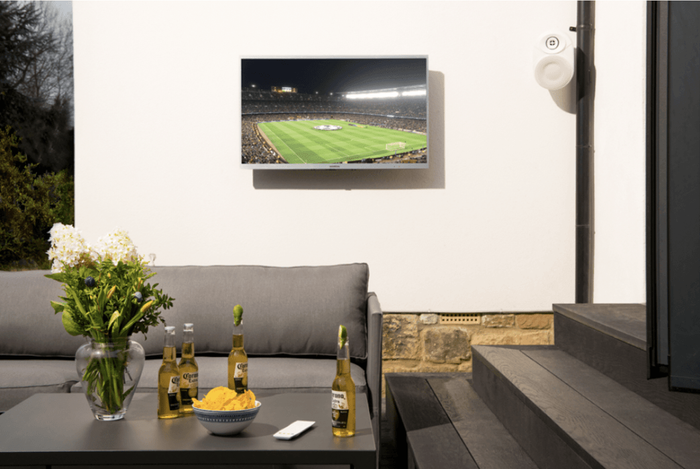 With their 43 inch Outdoor Lifestyle TV the company is the first to let consumers and businesses install outside TV that's affordable - as the company's newest model is 50% cheaper than both the industry standard and the competition with a price tag at under '2000.
HQ viewing that's not hindered
Three times brighter than a laptop screen and twice as bright as the standard household TV, ProofVision's Outdoor Lifestyle TV results in viewing that remains undisturbed even in direct sunlight - with the model self adjusting to combat the ever changing glare given off by the Sun and cloud cover.
Along with this safeguarding function the model is fully water resistant and with IP66 Rated aluminium heat dispersion technology incorporated, the set is function proof between -20 to 60 Celsius. This means the Outdoor Lifestyle TV guarantees safe and continued quality outside viewing any day of the year, irrespective of season.
Coming as standard with a super thin bezel, the full HD 1080p set measures in at an unbelievable 67mm depth, which essentially ensures the system doesn't sacrifice its innovative streamlined design to handle the outdoor elements. It's truly a showcase of function meets finesse.
About ProofVision
ProofVision are the true specialists when it comes down to water resistant electronics - with the aim to develop waterproof, flush and in-wall televisions and music systems for modern day living. ProofVision is fast becoming the market leader for waterproof technology. Established in 2008, their innovative designs with high quality materials and smart features, provide truly unique solutions. ProofVision products incorporate the latest technology and lead the way in current trends and features.
To learn more about the revolutionary 43 inch Outdoor Lifestyle TV get in touch with ProofVision today...