Pool Lifeguard Qualifications for the Leisure Sector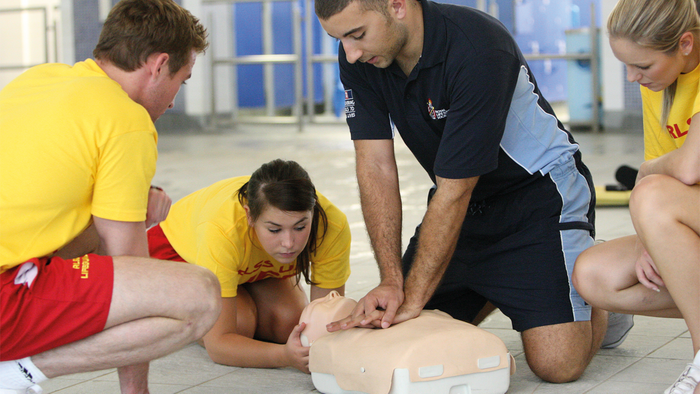 Over 90 per cent of all pool lifeguards in the UK are qualified with the RLSS UK's NPLQ (National Pool Lifeguard Qualification). That's over 90,000 pool lifeguards. Read on to find out why more than 46,000 pool lifeguards choose to qualify with the RLSS UK every year over other providers.
Over 90 per cent of all pool lifeguards in the UK are qualified with the RLSS UK's NPLQ (National Pool Lifeguard Qualification). That's over 90,000 pool lifeguards. Read on to find out why more than 46,000 pool lifeguards choose to qualify with the RLSS UK every year over other providers.
We offer robust qualifications
As the UK and Ireland's leading provider of training in lifesaving and lifeguarding, we provide the most robust and detailed qualifications and awards available. Our respected qualifications and awards are reviewed and updated regularly to ensure the content is current and informed by the latest legislation.
By employing lifeguards qualified in the RLSS UK's NPLQ (NPLQ courses near me), operators get assurance that their workforce is at the forefront of water safety to ensure the safety of their pools and their customers.
RLSS UK lifeguards renew their NPLQ qualification every two years (mirroring best practices of many organisations worldwide in water safety). RLSS UK lifeguards also keep their knowledge and skills sharp throughout this time by collecting ongoing continuous professional development (CPD). High standards keep RLSS UK at the helm of lifeguarding. The more frequent renewal and ongoing CPD requirements ensure RLSS UK qualification holders remain at the cutting-edge of lifesaving, lifeguarding and life support skills, and the leisure industry agrees.
We are regulated and respected
RLSS UK's NPLQ is recognised and monitored by Ofqual, Qualifications Wales and CCEA Regulation in Northern Ireland. As well as being formally endorsed by The Chartered Institute for the Management of Sport and Physical Activity (CIMSPA) and meets the CIMSPA professional standards for lifeguarding. As a professional development body for the sector, CIMSPA focuses on raising standards among all those who work in sport and physical activity, including lifeguards, to deliver safe and enjoyable exercise experiences to the public.
The NPLQ also meets the International Life Saving Federation (ILS) standards for pool lifeguards.
We work with the experts
We work with a panel of the most senior and highly regarded advisors and medical experts, whose expertise and knowledge expand across all relevant subjects and water environments, many at an Expert Witness level (for courts or tribunals), to create industry-leading qualifications and awards.
We also work with the Resuscitation Council UK, First Aid Quality Partnership Group, First Aid Awarding Organisation Forum, and European Resuscitation Council to ensure our lifeguard training and qualifications are of the highest standard, widely viewed as best practice and ratified.
We conduct research and learn from accidents/incidents
Unlike other awarding organisations in our industry, the RLSS UK commissions and leads on research for the sector, which is critical to reviewing existing practices and trends and informing future changes. Research is expensive and takes time, but we believe that fundamental changes should have evidence to support the changes and prevent a negative effect on safety.
From time to time, unfortunately, there are serious incidents in the industry, and we support the Health and Safety Executive (HSE) and other legal bodies with investigations relating to water safety. We work with our customers and partners to understand where changes to qualifications and training can help to prevent a reoccurrence. These videos were recreated following incidents in our industry and have provided important and valuable training for new and existing lifeguards - Powerful footage makes for robust RLSS UK lifeguard training. So by following RLSS UK qualifications and guidance, you know you are in safe hands.
We partner with leading operators
We partner with a wide range of national leisure providers to help improve water safety and make a positive difference to health and safety standards across the UK and Ireland. Valued and recognised by the sector, more than 1,300 leisure operators have chosen to train their lifeguards in the NPLQ -this includes the top national leisure providers such as GLL, David Lloyd Leisure, Places Leisure, Parkwood, Everyone Active, Fusion and Freedom Leisure.
We provide ongoing support
The NPLQ course will usually cost between £200 and £300, depending on the venue and location; this includes all assessment fees and certification and provides you with a well-recognised and respected regulated qualification. It also opens the door to ongoing support throughout your career with online learning modules to support CPD renewal requirements and access to our UK-wide lifeguard network via the RLSS UK's Lifeguard Membership.
The membership scheme offers a wealth of benefits ranging from free access to our advice helplines and free personal protection to exclusive offers on high street products.
We also provide a free job finder service (RLSS UK Job Finder) to allow operators to advertise lifeguard jobs for RLSS UK qualified lifeguards.
We worked to support customers, members, and partners to a safe return to activity post-COVID-19 and were the only lifeguard awarding body to issue guidance about lifeguarding during the pandemic. Our aim was always to ensure pools could become operational as soon as safely practical and support the RLSS UK lifeguard community.
We are so much more than qualifications
We sit on many industry panels to evolve and develop national safety standards. We also support companies with manufacturing and distributing innovative and compliant lifesaving equipment - the RLSS UK Shop offers official uniforms and training, First Aid, and safety equipment for the leisure industry.
As a charity, we exist to enhance communities, so everyone can enjoy being in, on or near water safely – because every life is worth saving. This work extends far beyond qualifications and ranges from delivering water safety advice to young people and accrediting the growing aqua park sector to conducting mystery visits and providing consultancy services.
To complement our qualifications, RLSS UK runs a series of water safety education campaigns including, Drowning Prevention Week and Don't Drink and Drown.
Drowning Prevention Week in 2022 was a record-breaking success.
A new water safety animation had 2.79million viewing opportunities on YouTube
Over 50 MPs engaged with our RLSS UK event at Westminster
Water Safety Education resources were downloaded for 341,000 children in schools (up 26% on 2021) and over 909,000 children in leisure centres (more than double the number in 2021)
The website saw over 176,000 visits during the campaign week, which is up 82% on a typical week.
Every NPLQ awarded allows us to continue our vision - Nations without drowning where everyone can safely enjoy being in, on or near water.
So, here are just some reasons why the RLSS UK's NPLQ continues to be the premier lifeguard certification across the UK and Ireland with worldwide recognition (providing the potential to work and travel). For more information about the qualification, visit www.rlss.org.uk/national-pool-lifeguard-qualification or to find a NPLQ course near you, visit www.rlss.org.uk/find-a-course