Recotherm launch Scent Solution at Spatex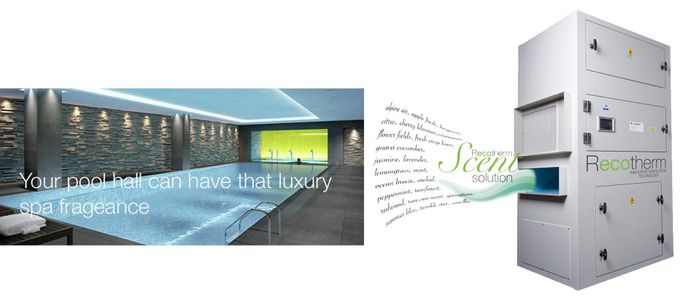 Recotherm have always been at the cutting edge of swimming pool ventilation.
They introduced the concept of controlled 'fresh air' ventilation systems to the pool market, and saw the advantages of using Building Energy Management Systems (BEMS) using Trend controllers in 1988. Recotherm were also the first to introduce plug fans in 1995. Their units have always been amongst the most cost efficient systems on the market.
Now they are putting their expertise to greater use with the introduction of 'Scent solution' an integrated system that disperses a wide range of selected aromas to provide fragrances that make the pool hall experience more like an expensive spa.
Recotherm 'Scent solution' is a bespoke system of pump, diffuser and control technologies that diffuses aromas via 'Cold Air Diffusion'. In simple terms, it pressurises liquid aromatic oil and releases it as a gas, through the diffuser. It is a very consistent method, making it very economical also which is a hallmark of all Recotherm systems.
The diffuser can be set up to operate continually or for just a few hours a day by utilising the built in scent time clock and the intensity of the fragrance can be adjusted by using the 'scent intensity' control.'' It will be demonstrated on stand G 37 at the Spatex 2018 show
For further information please contact
Martin Killen
Recotherm
Tel 01527 894533
Email martin@recotherm.co.uk