RLSS UK's new clothing and uniform range is a great fit for all new and existing customers!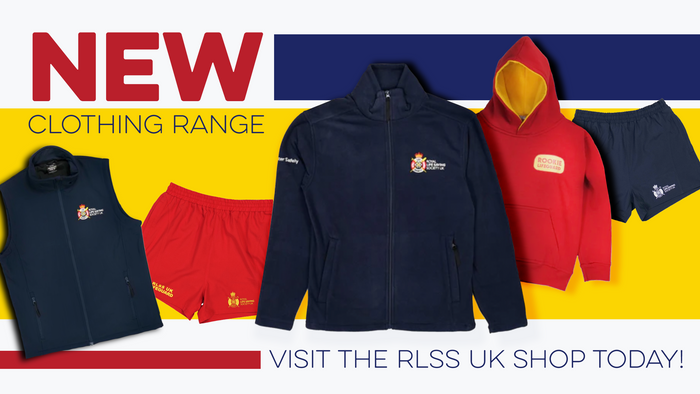 After a full review of our RLSS UK branded uniform and clothing range, the RLSS UK have launched their brand-new clothing range.
After a full review of our RLSS UK branded uniform and clothing range, RLSS UK's, has launched its much-anticipated collection which is available now from the RLSS UK Shop.
With over 20 new or improved clothing and professional uniform lines, the new range boasts 100% cotton and technical fabric options, premium finish and tailoring, exclusive garments even a limited edition RLSS UK Oodie!
Whether you're a Lifeguard or Trainer/Instructor wanting comfortable uniform pieces, a Rookie Lifeguard looking for a super-soft hoodie with a hidden phone pocket and an earphone feed, or a Charity supporter proudly choosing a branded zip-up navy hoodie – there's something for everyone!
Getting the new RLSS UK branded collection to our online store – RLSS UK Shop - hasn't been without its hiccups, and we would like to thank our customers for their patience, loyalty, and contribution during the lengthy process. Making sure we had the new range spot-on for all our customers was a priority and reaching out for customer input and sourcing the right solutions for every environment has taken time. We have also faced many production, manufacturing, and logistical challenges that have been out of our control, brought about by crises happening around the world, including factory closures, COVID-19-related illnesses, and freight-forwarding.
The customer feedback we received has been instrumental in our decision-making, not only in terms of styles, colourways, personalisation, fabric, and cost but also in prioritising which features and benefits matter most to our customers.
As well as offering our sought-after uniform staples, based on feedback, we have introduced new lines, including a microfleece-lined gilet with a water-repellent, windproof and breathable triple outer layer (available now) – and a unisex, premium navy-blue zip-up hoodie with a handy front pouch pocket (available October 2022).
We have also upgraded and improved several lines. These include our fleeces, now made from a more advanced, higher quality, lightweight, micro-fibre fleece, shorts that are now more comfortable than ever with lining, an elasticated drawstring waist, and three zipped pockets and available in a much-requested navy blue, as well as the traditional professional red.
Sustainability is important to us, and we are proud that our lifeguard technical T-Shirt is now made from recycled CONTROL-DRY polyester - a specialist textured polyester knit that is incredibly comfortable and breathable, and fast-drying.
All garments have the RLSS UK Crest logo on the chest and many have the Enjoy Water Safely strapline on the arm. We have used a combination of embroidery and heat-printed lettering, a high-quality finish that is hard wearing and prevents cracking.
Some lines, such as our well-loved, smart Polo Shirts, are still on their way but will be worth the wait! The new Technical Polo, for example, has been designed and manufactured specifically for RLSS UK and made from Neoteric® - a specialist textured polyester knit that is incredibly comfortable, breathable, and fast-drying. A new RLSS UK branded oodie – an oversized blanket hoodie, if you didn't know - will also be available later in the year, making a great Christmas gift idea.
'Notify me when available service' will immediately notify you when stock becomes available.
The new uniform and clothing range is all available from the RLSS UK Shop, with any profits distributed to our registered charity (1046060 / SC037912). This revenue enables us to continue our charitable work and make an impact in UK and Irish communities so everyone can enjoy being in, on or near water safely – because every life is worth saving.
If you're joining us at the National Lifesaving Championships (5 November 2022), you'll be able to see and feel the complete range. We are confident you will appreciate the quality finish we have managed to achieve whilst maintaining and, in some cases, even lowering our prices!