Sport and wellness hot tubs – Fitness Edition: massaging whirlpools for relaxation and recovery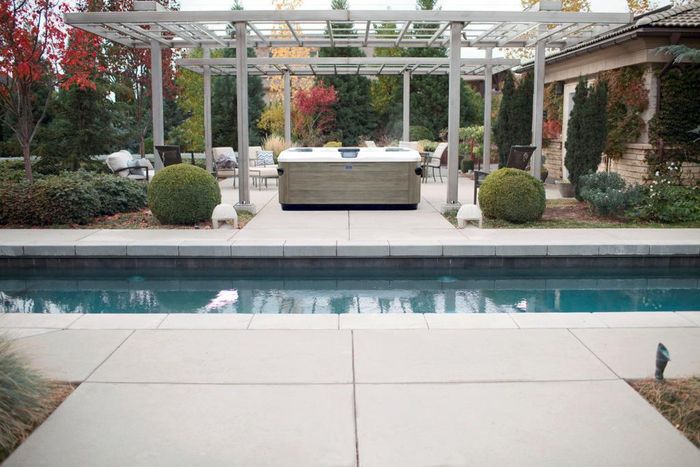 Every athlete understands the importance of recovery after exercise to build muscle and boost performance. To meet the specific needs of this post-workout relaxation phase, Villeroy & Boch has developed the new Fitness Edition for Premium Line hot tubs, allowing flexible adaptation to the individual needs of physically active people.
Taking time out in one of the new Fitness Edition massaging hot tubs after exercise actively contributes to relaxing muscles and preventing cramps, as well as boosting circulation and thus the breakdown of lactates. The continuously adjustable JetPaks™ – massage jets in the backrests of the seats – allow you to adapt the intensity to your needs, from a gentle massage to deep kneading. You can also change the seat height to ensure each massage jet spreads its soothing effect in precisely the targeted area of the body – from the feet, calves and legs up to the wrists, from the hips to the lower and upper back up to the neck and shoulders.
The models in the Fitness Edition are fitted with a specific selection of JetPaks™ combining different massage and wellness functions. Greater pump capacity ensures maximum massaging effects at every seat. Five models are available: The compact 5person A6L Fitness hot tub features an additional massage pump and its smaller dimensions make it an ideal choice for installation on a patio or balcony. It is fitted with four seats with different JetPaks™ and an integrated recliner. The 6-person A7L Fitness hot tub has five seats with massage options ranging from gentle to powerful, as well as a relaxing recliner and additional pump capacity. The features of the A8D Fitness include five seats with JetPaks™ and two spacious recliners as well as the upgraded pump. The user-friendly seating offers more than enough legroom. The largest of the four Ssport hot tubs is the spacious 8-person A9L Fitness which offers maximum massage and wellness benefits thanks to its 3 pumps. The JetPaks™ in each of the four models can be exchanged or additional massaging backrests can be added. A total of 18 different massage units are also available.
With their linear, minimalist design and the timeless colour combination of white Snow on the inside and grey-beige Timber on the outside, the hot tubs in the Fitness Edition coordinate perfectly with modern home design. All models come complete with premium features including stainless steel jets, lighting, waterfall and drinks holders. Like all Villeroy & Boch hot tubs, they consist of a robust and fully enclosed structure preventing penetration of moisture while guaranteeing resilience and a long service life – with a noticeable reduction in noise and vibrations.
The modern filter and circulation system keeps the water fresh and clean at all times. The ozonator fitted as standard ensures impeccable water quality and hygiene together with a significant reduction in the use of chemicals such as chlorine. Their special construction also makes the hot tubs particularly energy efficient.