Technology in Swimming Pools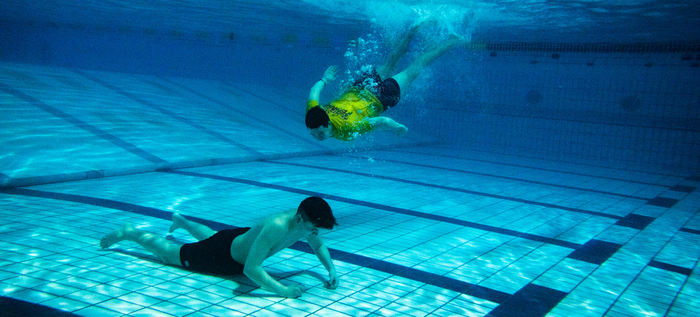 A look at swimming pool technology, - its use, types, and why lifeguards are still important.
Technology is a part of everyday life, from contactless payment to video assistance referees for sports. There are hundreds of technology systems used worldwide to help keep people safe in the water. These include systems that identify rip currents at beaches and infrared systems to spot people in large areas of open water.
Technology in swimming pools has been around for over twenty years but has developed more quickly in recent years. We are now lucky to have some impressive detection systems available.
There are many different types of technology systems designed for use in swimming pools, from personal systems that swimmers wear to systems that operate with monitors that alert lifeguards if someone is showing some unusual behaviour that they should investigate.
You can read more here about the types of swimming pool technology available in the UK and Ireland here.
Jo Talbot, Director at RLSS UK, explains: "At RLSS UK, our purpose is to help everyone enjoy water safely. We know how much fun water is for the very young playing in the water, for competitive swimmers, and for those using water to stay fit and healthy. Technology to assist lifeguards in monitoring and supervising swimming pool users is an amazing concept, and certainly something we will see more of in the future."
People don't just drown.
Many systems get referred to as Drowning Detection Systems, but it is important to remember that people do not just drown! Thankfully fatalities in swimming pools are rare, but they do happen. And in many cases, it is down to an initial medical episode - for example, a heart attack, seizure, brain aneurism, etc.
Many technology systems are not just looking for a drowning casualty but someone who requires assistance, whether drowning or having a medical episode.
We know that people act very differently when having a medical episode or drowning, and you can read more here and watch some recreations of situations.
Do we still need lifeguards?
It is important to remember the job a lifeguard carries out. Lifeguards scan the swimming pool and, in many cases, the surrounding areas, identify hazards, perceive accidents that are happening (or are about to happen), and intervene where necessary to educate swimmers with simple instructions or explanations that prevent many accidents from minor to major.
In the event of a lifeguard needing to take action, they are there at the scene to rescue and recover the casualty and then equipped to give immediate CPR or First Aid. As good as technology is, it cannot identify hazards, educate, rescue, recover or give CPR/First Aid.
A recent consumer survey* revealed five in six UK adults think that it is important that an indoor pool has trained lifeguards present- this could indicate they are relying on supervision by a lifeguard or lifeguards.
Thinking about technology for your pool?
If you're thinking about technology for your pool, there is much to consider! Firstly do your research by checking out all the systems available, and where possible, see systems in action! Consider each system and ensure it is fit for purpose in your facility. Don't forget water quality if the system has underwater cameras; you might think your water is crystal-clear, but a turbidity meter, and the view that an underwater camera provides, might tell you otherwise.
If you go ahead and purchase a system, before the supplier leaves, test the system and ensure it is fully operational.
Then the hard work starts for the Operator, who will need to:
decide how the system will be used by lifeguards
complete Risk Assessments
conduct Lifeguard Zone Visibility Tests
update the Pool Safety Operating Procedures (not forgetting what to do if the system ever fails and cannot be used)
deliver training to lifeguards
deliver training to any management using back-end systems
monitor its use and ensure completion of procedures and training
To build public awareness and manage public perception of any swimming pool technologies in current use, we recommended that Operators communicate with their customers to explain what is in place and how it will improve safety.
One last word of advice, if you are involved with a new swimming pool, install technology containment at the build stage and future proof your pool!
*On 28 March 2022, we conducted a quantitative survey amongst a nationally representative sample of n= 561 adults in the UK aged 18-65. Quotas were applied on age, gender, and region (to ensure national representation).