Transform your pool with EVAstream from Golden Coast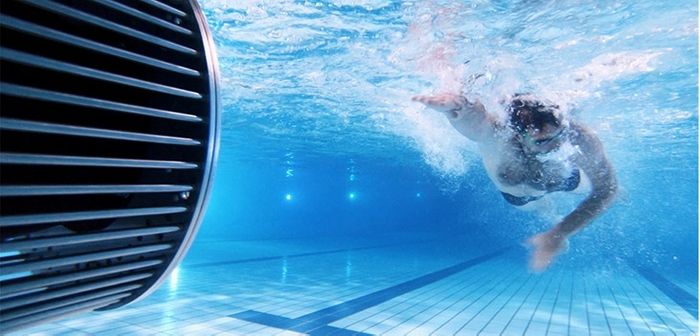 Powerful counter-current unit turns any pool into a home fitness environment
Wet Leisure distributor Golden Coast is now supplying the new, innovative EVAstream counter-current unit from Dutch manufacturer EVA Optic.
EVAstream allows users to make the most out of a pool by creating a powerful jet of water to swim against.
Whether it is used for improving swimming technique, enhancing physical fitness, or adding variety to a regime, EVAstream makes an outstanding difference to a pool. It is designed to be compact yet powerful, with a flow rate of 8.5 m/s (> 30 km/h) and has the option of using pre-programmed training modes — providing a challenging workout even for athlete swimmers.
The flow of water can be adjusted between 10% and 100%, so EVAstream can also be used for lower level activity such as rehabilitation, or just to aid relaxation when unwinding in the pool.
The unit can be built into new pools, or retrofitted onto a fixed or moveable module for use in existing pools.
Kids will love EVAstream too. When the unit is wall mounted it can create an underwater current that turns a pool into fun rapids, or when placed vertically on the bottom of the pool it becomes an eruptive water volcano.
Importantly, owners get complete peace of mind when using EVAstream, as it has been extensively tested to ensure it meets the most stringent safety standards, including DIN EN16582-1/2/3, EN16713-2, EN13451-1/3.
Shaun Adams, Director at Golden Coast said: "EVAstream is very versatile. It can help swimmers develop their ability, or just adds a bit fun to time spent in the pool.
"Precision engineering and smart design mean EVAstream is highly energy efficient, with a consumption of only 2.2kW. Fitted to a standard 16A 230V connection, it is easy to use and can even be remotely controlled or synced with pool lighting.
"EVAstream allows owners to enjoy their pool all year round. No matter what kind of pool they have, the EVAstream counter-current unit offers something special."