Unique spa experiences with hot tubs from Villeroy & Boch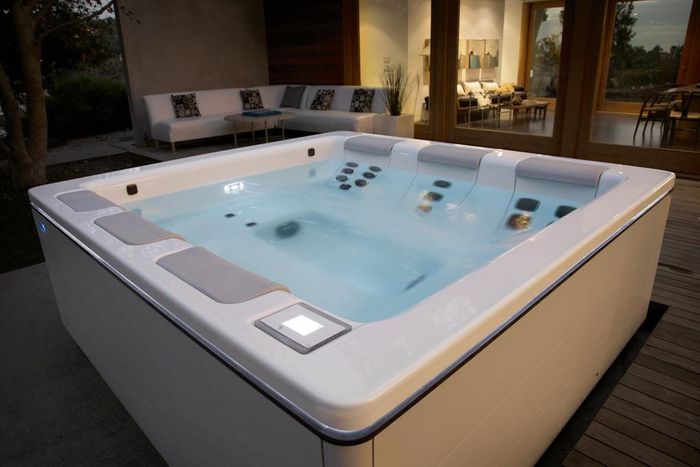 Everyone has a different preference when it comes to hot tubs. One person may want a powerful massage to loosen their tight muscles whereas someone else might prefer a gentle relaxing bath. Villeroy & Boch has high-quality hot tubs that can be configured to individual needs, ensuring that everyone can treat themselves exactly where and how they want it.
Custom-made relaxation – JetPaks™ for a personalised massage
All Comfort Line, Premium Line and Design Line hot tubs of Villeroy & Boch feature the patented JetPak™ II technology. JetPaks™ are the back sections of the seats that have been fitted with massage jets, which can be individually selected and put together. Up to 18 different JetPaks™ can be combined with each other and easily exchanged via a click system – even if the hot tub is full of water. They are divided into the categories Sport, Wellness and Relax Flow Therapy. The best massage can be experienced by combining JetPaks™ from different categories. The massage functions can be put together individually or a pre-defined model can be selected. Regardless of the option chosen, the JetPaks™ technology allows everyone to enjoy their perfect massage by adapting it to their very own needs at their favourite seat – even when several people are soaking in the hot tub at the same time.
Just Silence – personalised massage functions in the Design Line
Be it to invigorate the body and mind after exercising or to unwind after a stressful day – Just Silence from Villeroy & Boch is a flexible spa solution with a linear, European design that has a simple, clearly defined cubist shape. LED-lighting with a timer function has been fitted under the narrow rim of the bath. It can be controlled separately and completely illuminates the hot tub. And when it is dark, it adds an additional stunning feature.
Just Silence is available in two design and colour concepts: the outer panelling in the minimalistic version features a light and modern look in Light Grey. It has been combined with an inner shell in the colour Snow, giving the hot tub an incredibly light appearance. The range has a new colour – Timber, a modern and warm grey. Its surface has a light, wood grain-like effect, which gives the outer panelling of both Just Silence hot tubs a modern natural look while providing an exciting blend of materials.
Just Silence's novel seating concept unites space and comfort in a very unique way, enabling users to relax in different seated positions. Just Silence allows up to five people to sit opposite each other without sacrificing legroom. The hot tub features a novel reclining concept. Couples as well as up to five people can comfortably recline and relax in the hot tub.
Comfortable neck cushions, built-in leg jets, a water feature and the adaptable JetPaks™ make the spa experience perfect. Six easy-to-use JetPaks™ allow everyone to enjoy their own favourite personalised massage, sitting or reclining in their favourite seat. Just Silence also has a new control system with a touch screen panel.
Just Silence Compact for hot tub pleasure in a small space
Sharing the same technical features and award-winning design as Just Silence, Just Silence Compact has been developed in response to market demand for a smaller hot tub with fewer seats. By expanding its range with modern architectural design, Villeroy & Boch will be offering solutions in future for both more spacious as well as smaller areas with plenty of seats for singles, couples or small families. Just Silence Compact is also available in Timber.
Black & White Edition – relaxing hot tub pleasure with the Comfort Line
The Black & White Edition from Villeroy & Boch boasts a stunning design. The Black & White Edition is a unique design line, featuring clear lines and black and white elements, and offers an innovative new look – it suits different interior styles, from timeless and classic to extravagant and modern. Combined with the trendy "Stone Grey" colour of the external panelling, this hot tub edition oozes confidence and innovative design. The hot tubs have exclusive massage jets made of stainless steel. The contrasting JetPaks™ in Dark Grey add a stylish touch to the hot tubs.
And there is more: In addition to its modern design and the innovative JetPak™ II technology, the Black & White Edition also offers impressive technical features. For example, an app allows you to easily adjust the settings for the hot tubs. You can set the water temperature remotely from your smartphone and then take a dip in your personal wellness oasis as soon as you get back home.

The comfort fittings in the Black & White Edition also include an LED interior lighting system with a colour changer, an easy-to-use control with a digital display and padded neck cushions. Two models are available: R6L with a maximum of four seats and R7 with up to six seats.
Two-tone or splashes of bold colours with the Premium Line Color Edition
The different colours of the external panelling and inner shells in the Premium Line Color Edition can be combined perfectly with each other and with the JetPaks™. New acrylic colours have been added to the Premium Line colour scheme along with two modern shades of brown, which replace the Hazelnut shade of the outer panelling. The new Timber shade, a warm and modern grey with a light wood grain-like effect, will also be part of the Premium Line.
A new addition to the Premium Line range: the A9L with 7 JetPaksTM and 8 seats has plenty of room for eight people. It complements Villeroy & Boch's Premium Line size range with a spa that allows family and friends to enjoy the hot tub together.
X Series – a new hot tub generation, complete with everything
The hot tubs in the X-Series from Villeroy & Boch are perfect for first-timers who have just discovered spa treatments for themselves and for maximalists who expect the best possible performance. The standard fittings and proven quality of this hot tub series are usually only available in the premium segment. Thanks to the wide range of jets, an individual and versatile hydrotherapy experience is possible. Features such as the illuminated waterfall and comfortable headrests provide comfort and relaxation. A standard ozonator and large filter are also unique in this price range. They help to clean the water easily and naturally.
High-quality technology, economical and energy-efficient
The hot tubs from Villeroy & Boch consist of a durable, robust, fully enclosed and woodfree EnduraFrame™ construction with full-foam insulation and an insulating cover. This construction, the robust plastic supports and the high-quality, UV-resistant and hygienic EnduraWood™ acrylic surface of the external panelling provide a high degree of stability, a long life span and perceptible noise and vibration reduction. It also prevents moisture and pests from getting in.

The hot tubs also impress in terms of energy efficiency: in contrast to other suppliers, Villeroy & Boch dispenses entirely with pipes behind the JetPaks™. As 90 per cent of the water-carrying parts are located in the hot pool water inside the shell of the hot tub, the heat from the water in the pipes is transferred to the hot tub water, ensuring no heat is lost through external pipes. Electricity and heating costs, therefore, remain amazingly low.

The optional pretty waterfall, padded neck cushions and sound system provide a very unique hot tub experience. Not forgetting the easy-to use control with a colour display screen and control system. The settings can also be controlled via the app.