Waxman Ceramics Introduces NEW Glass Mosaic Aquastyle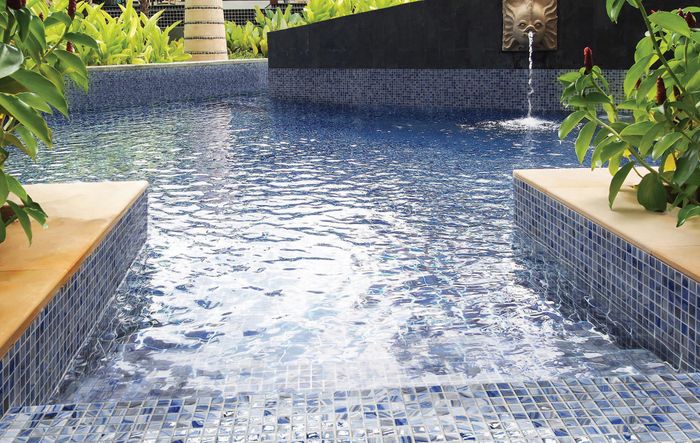 ELLAND, UK: Waxman Ceramics, one of the largest suppliers of mosaics in the UK, as well as one of the leading distributors of large format wall and floor tiles is returns to the annual Spatex show, held at Ricoh'arena'on Tuesday 30th January ' Thursday 1st February 2018.
Launching at this year's show is brand new glass mosaic, Aquastyle which is available in 7'ocean inspired'shades ranging from the soft pastel tones of Blue Macauba to the smokey dark hues of Arrecife Iridis grey.
Made from 98% recycled glass, Aquastyle'utilises'digital printed technology to add a touch of serenity and calm to any pool or spa. Suitable for both internal and external walls and internal floors, it is available in 31x46.7cm sheets with each mosaic measuring 25x25x5mm.
One of the'stand'out features of Aquastyle is its polyurethane dot backing which is our most advanced mounting system to date - perfectly designed for fixing mosaics in any environment, especially in water installations such as swimming pools and spas. Durable, as well as flexible, this new mounting system is suitable for use with all industry'recognised'adhesives allowing a quick and easy install.
The new Aquastyle range forms part of Waxman Ceramics' growing 'Pool & Spa Collection'.
For more information on Aquastyle or to order a sample, please call us on 01422 377123

Further information:'Waxman Ceramics is a company under the Waxman Group, which has over 50 years' experience in the distribution industry.'Waxman Ceramics is the UK's largest distributor of mosaic tiles and also supplies anti-slip as well as large format tiles, providing total solutions for both domestic and commercial projects.