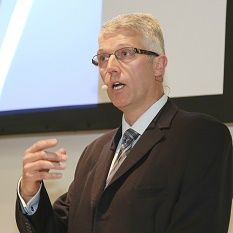 Chris Hayes
BRITISH SWIMMING POOL FEDERATION
Chris Hayes has been Managing Director at the British Swimming Pool Federation (BSPF) since April 2008. He is responsible for the strategic leadership of the swimming pool and spa industry on behalf of the BSPF, SPATA (the Swimming Pool and Allied Trades Association), and BISHTA (British and Irish Spa and Hot Tub Association). He also has responsibilities for PIP (Pool Industry Promotion) and SPATEX (the industries trade exhibition).
He works with a range of local and national government departments and other key organisations at home and aboard to raise standards and also the profile of the industry. Examples in the UK include the work with BSi, Home Office, The Office for Product Safety and Standards, The IET, Water UK and WRAS. In Europe he is the Convenor Head of Delegation for the BSi on TC 402 (Domestic Pools and Spas) and was General Secretary of EUSA (European Union of Swimming Pool and Spa Associations) in 2012 and 2013.
CH has been involved in the wider leisure industry for the whole of his career so far, having previously worked in Local Government as a Manager, for a national charity (The Duke of Edinburgh's Award) and originally as a PE Teacher.