03 Aug 2021
Quantum SPA – it's here and now from CERTIKIN!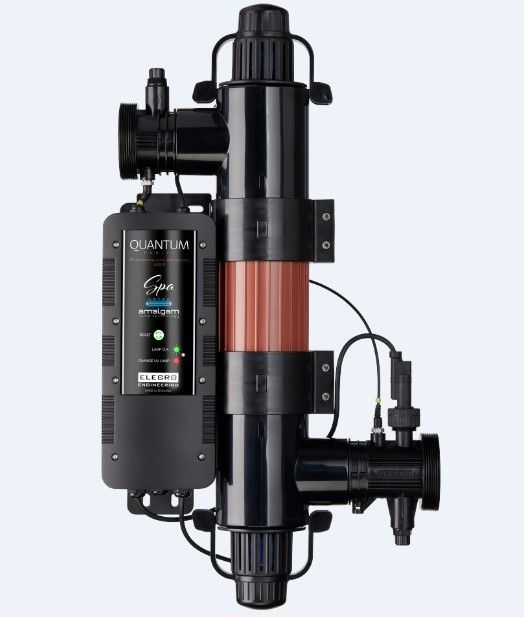 First there was Quantum for pools, now Certikin has added Quantum SPA to its portfolio which, like its forerunner, uses the same ceramic Nano Crystal technology, to give spas and hot tubs unparalleled crystal-clear clear water.
The most powerful sanitiser in the marketplace, Quantum SPA, manufactured by Elecro Engineering, has the power to sterilise sewage into drinking water without chemicals. Using the Advanced Oxidation Process (AOP) to eliminate microorganisms and contaminants in the spa water, the photocatalytic oxidation is a natural process and is used in advanced scientific industries such as hospitals and wherever 'ultra-pure water' is essential. Indeed, this technology was used to clean up the oil spill in the Gulf of Mexico in 2010.
As the UV light strikes the nano crystals which are coated in a special titanium dioxide, the natural process of photocatalytic oxidation and production of hydroxyl radicals occurs. This oxidises and destroys any pollutant, whether biological or non-biological, close to the catalyst's surface with the water vortexing through the chamber.
The Quantum is the only unit in the swimming pool industry to encompass this technology at a cost-effective level. Quantum SPA is super-safe and offers superior performance at reduced levels of power consumption.
It works in conjunction with all pool chemicals at reduced levels 0.5ppm (80-90% reduction of chemical use); electrolysis/ionisers; saltwater chlorinators and in swimming ponds or natural pools. It can also be used independently – dosing version for use with liquid chlorine or hydrogen peroxide.
All models are IP65 rated and can be installed outside.
For more details please contact:- Certikin | 01993 777200 | www.certikin.co.uk